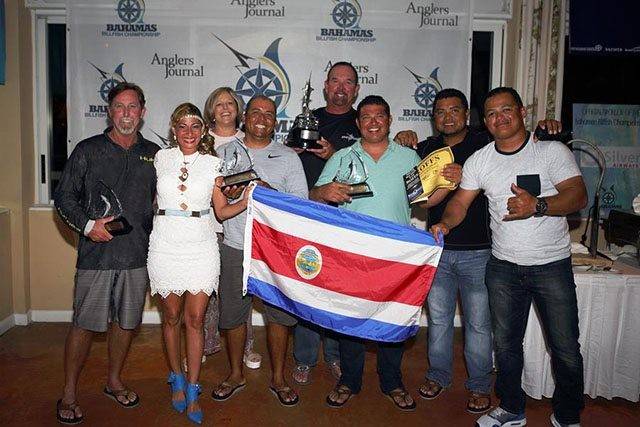 The Boat Harbour Championship, leg 2 of the 2016 Bahamas Billfish Championship, was held last week at Abaco Beach Resort. Winning team Uno Mas wasted no time in finding the fish and releasing a grand slam to earn them the $5000 Grand Slam bonus on day one!
The 69′ Bayliss Uno Mas started off the tournament releasing a blue marlin, 2 white marlin and a sailfish on day one. They went on to release a white marlin and a sailfish on day two and capped off the win releasing 3 blue marlin and a white marlin on day three. Sandrita, a 62′ Ocean, made the scoreboard all 3 days as well releasing a blue and a white on day one, a blue marlin on day two and 2 blue marlin the 3rd day. Angler Sandra Fish caught 2 of those blue marlin earning her the award for Top Lady Angler. BBC Series leader, the 40′ Cabo Bamboo, released 3 blues and 3 sailfish to give them the 3rd place win.
Overall Championship leaders after the first 2 legs are: 3rd Place – Uno Mas with 4800 points. 2nd Place – Sandrita with 4900 points. 1st Place – Bamboo with 5200 points.
Next Stop in the BBC Series is Marsh Harbour, June 1-4