Water levels remain below normal on Lake Kissimmee and the Chain. Water is being let out as fast as it is coming in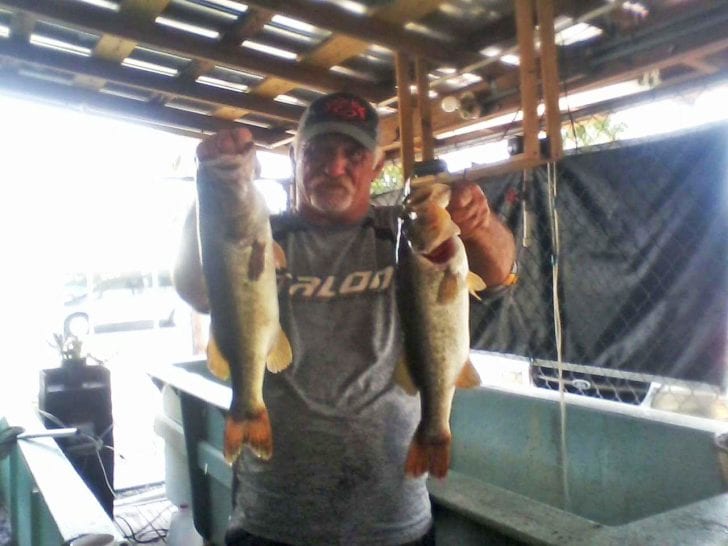 from heavy rains. This will continue until the Canal Project is completed.
If you like Bass fishing running water this is your kind of party. Bass in the 2-5lb range are plentiful just about any place where running water is dumping into the lakes. Blue or gold chrome lipless crankbaits will produce the best results in those areas. For larger trophy class Bass look for the deepest grass lines you can find. Choose a grass line which has a lot of peaks that jut out into the lake further than the rest of the grass line and concentrate your efforts on these peaks. For best results flip a black and blue jig 1/2oz tipped with a Black & Blue Craw. Or flip a Black & Blue Senko on a 1/4 oz weight.
Lake Rosalie and Lake Walk in Water water levels are still rising and are slightly above normal pool and if you like catching large numbers of Bass these are the two best fishing lakes on the Chain at this time. 1-6lb Bass can be caught on any grass line.. Weightless Flukes, Watermelon Red and weightless Junebug Senkos are all you need.
Bluegill and Shellcracker are abundant on the islands in the Kissimmee Chain on Lake Rosalie and Walk in Water. Try the shellbeds in 6-8' of water. Red worms, Cricketts, and Grass Shrimp are your best bets.
Crappie fishing can still be good especially in Cypress Canal on the 9' ledge. Use a Slip Cork Rig with a minnow set at 6' for best results. On Lake Rosalie and Walk in Water long line trolling road runners and beatle spins are best in 14' of water.
Submitted By: Capt Dave Ochs
Waters Edge Fish Camp
10730 Camp Mack Rd • Lake Wales, Fl
863-589-6295