by Capt. Terry Fisher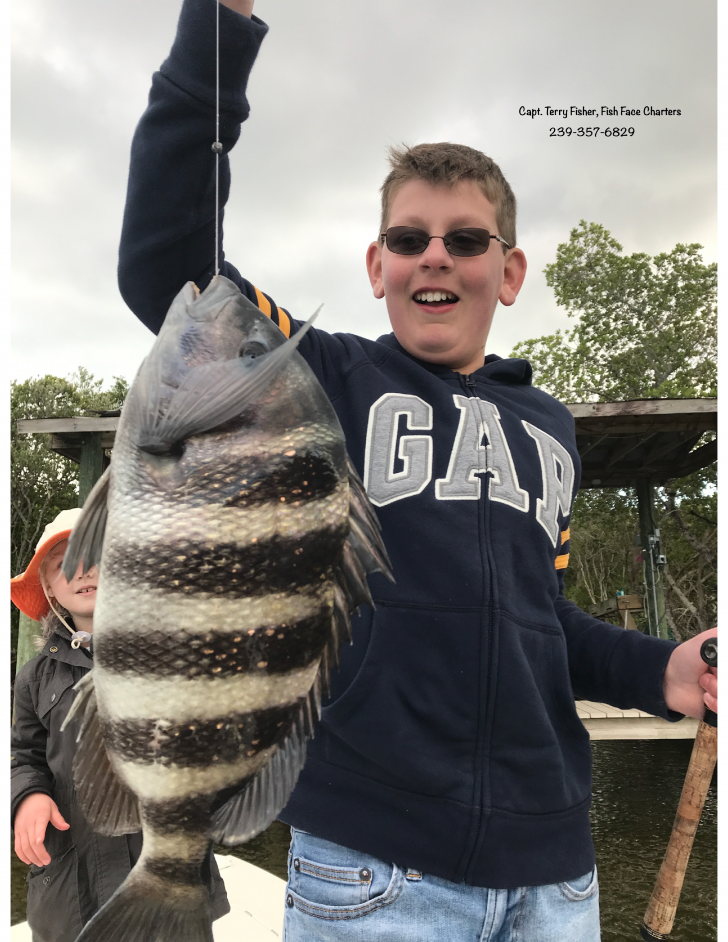 'BAR NONE':  no other species will be more relevant or prevalent than that of 'inshore' sheepshead during the month of February. Undoubtedly, sheepshead will be on the minds of many anglers this month and rightfully so. I am always happy to see February come around, as this is the 'sure-fire' month that these fish are here in good numbers and big sizes. Most of my clientele love the opportunity to hook up to a five or six-pound sheepshead on light tackle. These fish put up a good fight and reward the angler with a 'picture of a lifetime', not to mention the tasty morsels at the dinner table, as a reward for a job well done.
These fish will be found along the mangroves, rocks, oyster bars, large stumps and logs with current flow. Look for them under and around docks with natural or man-made structure. Docks and seawalls lining the passes will also offer opportunity to catch other species such as, redfish, black drum, snook and jacks due to the stronger incoming and outgoing currents. It matters not whether one fishes an incoming or outgoing tide. Sheepshead, like all other species are more active in moving water. Water movement provides oxygen and brings with it, food for the taking. They basically dine on small crabs and shrimps.
Recognizing a sheepshead bite from another species is key to understanding how and when to set the hook (or when to move to another location in search of them). Hard hits and redundant nibbles are small mangrove snappers, pinfish or 'trash' fish. Light 'tugs' or gentle 'pulls' are sheepshead. Often, they will pick up the bait and swim away to the left or the right of the initial presentation. Any of these events should trigger the time to remove slack from the line and set the hook.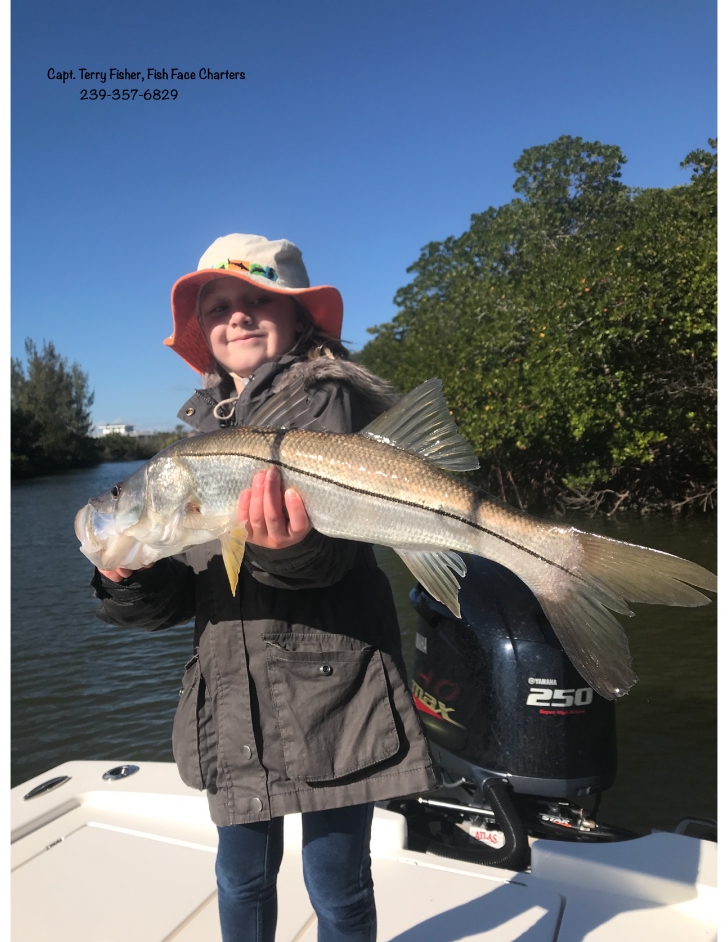 My bait of choice is a small shrimp. Some anglers prefer fiddler crabs but they are more expensive and hard to come by. Use light tackle such as a 3000 to 3500 series reel mounted on a light 7ft. rod (shorter rods make it easier to cast in tight situations under docks and with other anglers on the boat). Use 15lb. test braided line for strength and an instant hook set. Add a 2ft./30lb. leader to the line to prevent cut offs from ledges and barnacles on the dock piles. Tie on a #1 or #2 bait hook and place a #5 or #7 pinch weight on the leader about 8" above the hook (use only enough weight to get a good cast and keep the bait down, as too much weight may prevent seeing or feeling a bite. Place a shrimp or fiddler crab on the hook and cast to your chosen location and you're in business.
This is Captain Terry Fisher of Fish Face Charters wishing everyone tight lines! Check out my website at www.fishfacecharters.com. Call me at 239-357-6829 or email [email protected] to book a charter on my vessel or yours. I am available as 'Captain for Hire' by the hour (on your vessel) for navigational, safety, fishing locations and my proven techniques to insure catching fish.