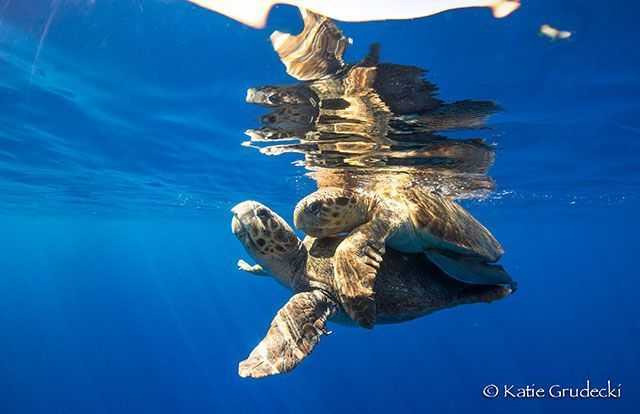 We have been waiting for May in the tiny chain of islands known as the Bimini's all winter. The water and the air temperatures are finally warming up. By the end of the month it should be in the low 80s above and below the clear blue water. Almost more importantly however, the mild south easterly prevailing winds of our summer weather patterns begin to reign supreme. The deep seas of the Florida Straits and the waters of the shallow Great Bahama Bank are finally calm and inviting on a consistent basis. These conditions also herald the beginning of Bimini's busy season.
By May many private boat owners begin heading from Florida to Bimini every holiday weekend, actually almost every weekend the seas are calm. The dive sites can get a little crowded, often with private boats, so start researching some of the more remote sites this month. Everything from Cat Cay south is amazing, and you cannot go wrong. If you're getting adventurous (and not afraid of the fuel bill) think of exploring sites south of Ocean Cay. With virtually no pressure except for the occasional "smack" boat during lobster season these reefs are teeming with life.
Our favorite wildlife interactions in May would have to be loggerhead turtles. There are three species of sea turtles that are very common in Bimini, green, hawksbill, and loggerheads. Loggerheads are the largest of the three, and are mating this month. It is not uncommon at all to see a pair "frolicking" at the surface all month long. If you can find out what direction the current is headed, approach slowly and quietly from up current, it can be an amazing encounter to watch. Next on our list would have to be the spotted Atlantic dolphins. With calm seas this month, these animals become much easier to find and play with north of the island.
A few things to remember about May is lobster season is closed. Catching "summer crabs", as they are referred to in the summer, is illegal. With all the development on Bimini these past few years, enforcement of fishing laws has been stepped up, and summer crab is still poaching folks. The Bimini Superfast Ferry is also making more trips, and it would be wise to find out their schedule before diving some of the sites of North Bimini. The northern hawksbill reef line, and the deeper northern portions of the Moray Alley reef line can be very close to the ships path from Miami to Bimini. Keep an eye out, and get to Bimini this month!