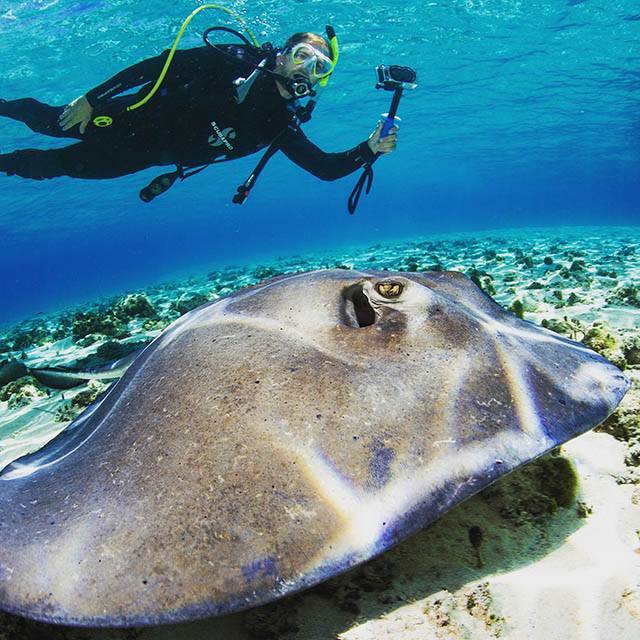 Bimini is hot in September, and the best place to be is in the water. The temperature is 85°F-plus, and the air can feel even hotter. It's almost too hot to do anything but go diving! The winds are virtually nonexistent, and due to that, the seas are dead calm all month long. Visibility is outstanding in September, 100-foot-plus most month, and verging on infinite sometimes. Thunderstorms are frequent in the afternoons, but almost always over as quickly as they appeared. The only possible downside to September's weather is the dreaded "H" word, don't say it, we all know what it is. Tropical weather prediction and tracking has got great, so if your travel plans can be flexible, or last minute, September is the perfect month for you! Season is pretty much over after Labor Day, so you can find GREAT deals and AMAZING dive sites, with only your party and the dive masters on them. September is the locals' month, the month we run to further sites and give the brave and lucky guests willing to come in the off season a truly memorable experience!
The wildlife here in Bimini has no idea it's off season. Massive schools of horse-eyed jacks and permit can be seen cruising the reefs and wrecks. Shark numbers are usually a little low this month. Usual spots like Triangle and Bull Run may hold a few sharks, but the numbers are low and they are usually a little sluggish.
This season is likely the last to enjoy the Ocean Cay area. Construction is starting soon, and it's one of the most productive areas for Caribbean spiny lobster, hogfish, and grouper in the Bimini area. So if you get a chance, enjoy it now.