By Jillian Morris Brake
The island of South Bimini attracts visitors looking for great fishing, amazing diving, and idyllic beaches, but there is a tiny gem that is not to be missed on your next visit; the Bimini Biological Field Station (Sharklab). Dr. Samuel Gruber, affectionately known as "Doc", founded the Sharklab in 1990 as a base for studying lemon sharks. Since its inception, this world-renowned lab has been at the forefront of shark research and has played an integral role in legislation protecting sharks in both Florida and the Bahamas. The lab currently has five staff members, the director and three PhD students. Volunteers spend anywhere from a month to a year at the station and allow for numerous projects to be run simultaneously. It may sound pretty glamorous living in the Bahamas, working in a bikini and spending time with sharks, but the days are long, the work is hard and it takes a great deal of dedication to keep the station running smoothly. As an alumni and someone who continues to assist with various projects, I can say the work is challenging, but also some of the most amazing experiences I have ever had. I have continuously used the knowledge and skills I acquired throughout my career and it brought my husband and I together.
Along with the research, the lab does a lot of community outreach including open days where students from the local schools get to snorkel with sharks and learn about the work being done in their own backyard. The Bahamas is now a shark sanctuary and it is important for the next generation to know how valuable this resource is and why it deserves protection.
They also offer tours to the public, talking to people about their research and showing them the station. The tours last about an hour and include a walk through the lab and then a visit to the shark pens located behind the lab. Juvenile nurse and lemon sharks are kept for a brief amount of time and are used for research and education. Many people are terrified of sharks, but getting the chance to see the sharks when they are small and vulnerable has proven to be a very powerful tool in changing their perception of these animals.
Because of their amazing dedication to educating island visitors, the Sharklab received a prestigious Cacique Award for Sustainable Tourism in January of this year. The Cacique Awards are given annually for excellence in tourism throughout the Bahamas. It is critical for tourists to know that the Bahamas are a lot more than just postcard perfect beaches and crystal clear waters.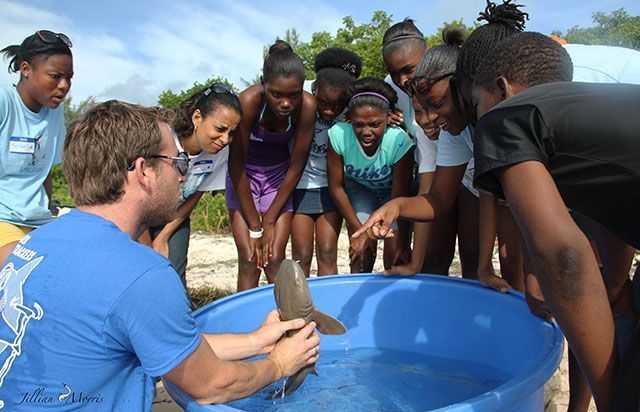 If you are visiting Bimini, a Sharklab tour should definitely be on your "to do" list. You can radio them on VHF channel 88A USA to schedule a tour. There is a suggested donation of $10.00 per person and this is a small price to pay for a unique and very worthwhile experience.
For more information check out http://www6.miami.edu/sharklab/ or find them on FB (Bimini Biological Field Station-Sharklab) and Twitter (@BiminiSharkLab).