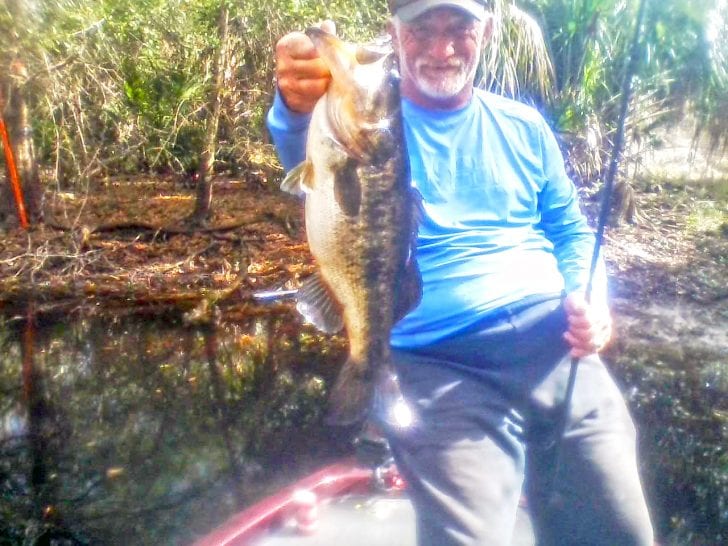 Rising water levels on the Kissimmee Chain has improved the Bass fishing some what. Bigger Bass are beginning to move into the shallows especially in the early morning hours. Eagles Nest and Gobblers Ridge on Lake Kissimmee in and around scattered and isolated pads are two of my favorite places for lunker Bass on the entire Chain. Mostly because of their location which is in close proximity to deep water in the canal and their close proximity to heavy pads and flipping mats. Throw into a mix a healthy population of big Bluegills in those two areas…that makes for a pretty good recipe for big lunker Bass! I've done best with 1/4 oz chartruese and white spinner baits with silver willow leaf blades early in the morning hours by the time the sun get up I like to target scattered and isolated cover with 5" weightless Senko.
By 10am bites are mighty hard to come by. It is then I favor moving to running water. Tiger Creek and the Kissimmee River are my favorite choices when the day heats up. For me I like Strike Kings 1.5 and 2.5 Square Bill Crank baits chartruese with black back.Weightless Senko's and a 8" lizzard with a #1 split shot have worked well for me in the creeks or in the Kissimmee River This has been the most consistent Summer pattern year in and year out over the years.
Over the next six weeks Lake Hatchineha should really turn on and start producing some of the best Bass fishing there is. The west side of Gator Cove and the North Buggy Whip line shoud be your best bet. 10" Ribbon tails with 1/4 oz weight, 1/4 oz jig and craw and weightless Senkos will be your best options. Color will vary depending on water clarity. But in my experience Black/Blue, June Bug and Watermelon Red are at the top of my list.
For all of you readers that don't have boats and fish from the banks, there are three locations that I strongly suggest you try fishing. The Lake Kissimmee State Park boat ramp area has plenty of bank line and nice docks to fish from. When the water is running in from Lake Rosalie this is one hot fishing hole for Bass, Bream, Catfish and Crappie. There alre also nice picnic areas close by and lots of wildlife to see, it's just a great way to take the whole family and for $5 it's just a great value.
Submitted By: Capt Dave Ochs
Waters Edge Fish Camp
10730 Camp Mack Rd • Lake Wales, Fl
863-589-6295