Fun Fish and Party Hardy Format Newest Edition to Popular Bonfire Tournament Series
[dropcap]S[/dropcap]pecial rate early registration is underway for anglers to compete in the Bonfire Beach Bash & Tournament to be hosted by the Old Bahama Bay Resort and Yacht Harbour, a proud member of the Guy Harvey Outpost Resorts Expedition Properties portfolio.
The Fun Fish Tournament, featuring a separate billfish category, and a Bonfire Beach celebration co-hosted by Loggerhead® Marina is scheduled from June 25-28. In addition to fishing, the three-day event features artist Bobby Little's signature bonfire sculpture—a hallmark of the Bonfire Tournament Series.
Tournament Director Cliff Jensen said anglers can save $100 by registering by May 25th by taking advantage of an "early bird" fee of $250 per angler (minimum four anglers per team). Also the first 20 boats registered receive a $300 credit, which can be applied to room, dockage and fuel. On hand for the tournament will be legendary Bahamas Captain Billy Black and Dutchess, his 50-foot Hatteras, running charters out of Old Bahama Bay as a Guy Harvey Expedition Fishing Outfitter.
Jensen said cash, trophies and prizes will be awarded to the top teams. To register online, please go to: www.ghofish.com.
Sixty miles east of Palm Beach, Old Bahama Bay, www.oldbahamabay.com, has 70 luxury guestrooms, a 70-slip deep-water marina with fuel and on-site customs, and a full array of resort amenities.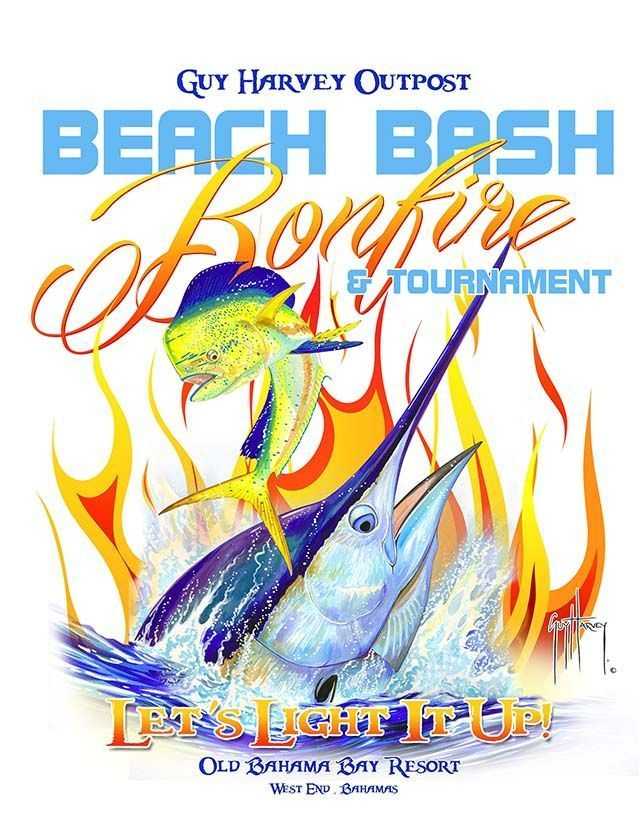 Guy Harvey Outpost kicked off 2015 with the first event of their Bonfire Series, a two-day Wahoo Tournament and the unveiling of Bobby Little's Burning Wahoo sculpture at Old Bahama Bay in February. Anglers in 23 boats fought wind and challenging weather for the largest wahoo and aggregate total over the two-day tournament period. St. Augustine's Fishin a Loan team emerged as the tournament champion, landing the largest wahoo at 63.9 lb on Day 1 and a 60.5 lb wahoo on Day 2 for a cumulative total of 448 lbs.
Every Bonfire Tournament Festival celebrates the Guy Harvey Outpost attitude by promoting fishing, adventure, art and conservation. At each event, Rum Cay artist Bobby Little creates a unique ocean-themed sculpture inspired by the location and its fishery. These "larger than life" works of art are crafted from recyclable materials that the artist finds in the Bahamas. For the Beach Bash Tournament, Little has brought to life a 20' "Burning Wahoo" sculpture secured by a base that doubles as a BBQ grill for a beach outdoor grill.
Guy Harvey Outpost fully supports the "Trash to Treasure" medium of creating art from recycled objects, and through Little's artistic vision, the company looks forward to including many more burning sculptures for future Bonfire Tournaments.
As part of the "Travel With a Purpose" mission, which combine a unique celebration at Outpost Destinations while promoting conservation, awareness and education to future artists and ocean enthusiasts, Guy Harvey Outpost Resorts has partnered with The Bahamas and Old Bahama Bay to benefit the West End All Age School.