Capt. Joel Brandenburg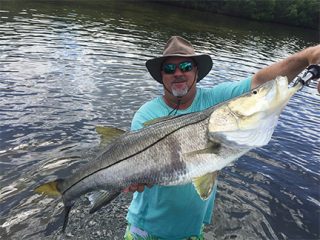 This time of year we charter many tourist and "snow birds". Even on a 4 hour charter they can expect to see manatees, dolphins, alligators, sea turtles, sharks, manta rays, snakes, jumping mullet, skipping pompano, pelicans, blue heron, sea gulls, commorants, ospreys, bald eagles, oyster catchers, buzzards, frigate birds and many other birds, fish, mammals and reptiles. All of these animals are exciting for the tourist to see and make for great photo ops. To a captain seeing these animals on and around the water is more than a photo op it's a fishing op. We learn to use these animals to locate and catch fish or use them to decide to pull up anchor and leave a fishing hole and go to another one. Below are a few examples of how we use these animals to catch fish.
Fishing for cobia at the power plant we look for cobia to be under manta rays, manatees and sea turtles. We don't know exactly why cobia like to hang out with these animals, but we have a couple theories: One and the most common theory is that animals like manta rays, manatees and sea turtles swim near the bottom stirring up crabs, seahorses, shrimp, starfish, eels etc. I have found all of these in a cobia's belly. Another theory is cobia hang under the manta rays to eat the new born manta rays as they pop out of the womb. We have found dozens of baby manta rays in the belly of cobia.
When we are snook, redfish and/or trout fishing and we have dolphins or sharks move into our fishing hole, we usually pull anchor and move to another fishing hole. I've seen it happen to many times where the gamefish are hitting us one after another and dolphin or sharks move in and the bite shuts off. My theory is once the preditors on the top of the food chain move in the gamefish stop thinking about eating and immediately start thinking about how to keep from getting eaten.
When trying to cast net bait fish, which can be quite a challenge in the winter months, we look for birds like sea gulls, ospreys, commorants and frigate birds circling and diving. When we find a flock of pelicans diving on bait fish we all ways sit back and watch for them for a minute or two. What we're watching for is this, once the pelican makes impact with the water, she pops up and does one of three things, she'll either tilt he head back and gulp (which we like to see because that means she just caught a sizable baitfish), keep her bill in the water fishing around (which we don't like to see because that means she's fishing for glass minnows to small to fish with on a hook and line) or she'll gather herself and fly away (which we dont like to see either because it means she probably dove on a school of finger mullet which swam to fast for her to catch not what we're looking for).
For a charter with Captain Joel Brandenburg owner/operator of Ana Banana Fishing Company call 813-267-4401 or visit www.anabananafishing.com. To stay at the Ana Banana Cabana check out our fishing packages at www.thevacationrentalhouse.com or you can talk to Captain Joel in person at Little Harbor Resorts Fishing fleet dock in Ruskin Fl. www.staylittleharbor.com