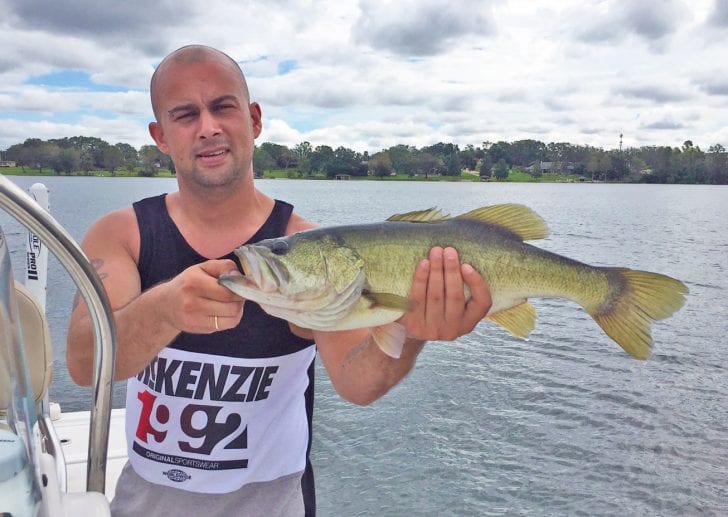 Fall is in the air with the cooler morning temperatures, and daytime temps that generally stay in the low to mid-80's, which helps the lake temps continue to cool down, and when you combine the those get ready for some fantastic bass fishing. Over the past month, we're already seeing an increase in the activity around Central Florida, with more aggressive and better bites, and fish that are actively feeding and looking thicker and healthier than the summer months.
Here in Winter Haven on the clearer south chain lakes, and also the smaller single lakes, we'll continue to start the day working the shallower grass lines with topwater baits like poppers and stick baits, weightless flukes or senkos, then moving out to throw crankbaits & jerkbaits over the deeper grass and hydrilla patches. One bait to kinda keep in mind is having a 3"-4" grub or swimbait in natural colors, they nearly always catch fish, especially if you happen to head out on a less than stellar off-weather day.
On the darker lakes with less visibility, it is very hard to beat flipping the reeds, cypress trees, and lily pads with the scented creature or craw baits in black and blue, or even a deep Junebug color. The Strike King Rage Craws are still one of my hands-down favorite baits for flipping.
Moving over to Camp Mack and the Kissimmee Chain, our mornings will still be spent up shallow in the pads, hyacinth mats (if you can find any), and hydrilla throwing frogs, weightless swimbaits like the Gambler EZ Swimmers, and topwater poppers, stick baits and prop baits. A fluke is always a solid choice for letting the kids have fun catching fish. If that bite tapers off in the shallows we'll be moving to the outside grass lines pitching senkos, jigs, ribbon tail worms, and Rage Craws. The bass are moving into their pre-spawn routines and if you fish the outer edges of the spawning flats you should find quality fish feeding.
This is also a great time of year for family eco-tours around the lakes. The Winter Haven south chain has 16 lakes and is easily accessible for people that may not have a lot of extra time for traveling. For those wanting to see more alligators, eagles, and osprey in "Old World Florida" we have trips leaving from The Port on Lake Hatchineha of Camp Mack's River Resort heading south down the Kissimmee River. For more information regarding Polk County events, activities, and things to do, VisitCentralFlorida.org has everything you'll need.
We hope to see you out on the water!
Submitted By: Capt. Scotty Taylor
TMC Guide Services, llc • 855-354-8433
Scott@TMCGuideService.com • TMCGuideService.com
Capt. Scott is the official guide for
VisitCentralFlorida.org & Camp Mack's River Resort