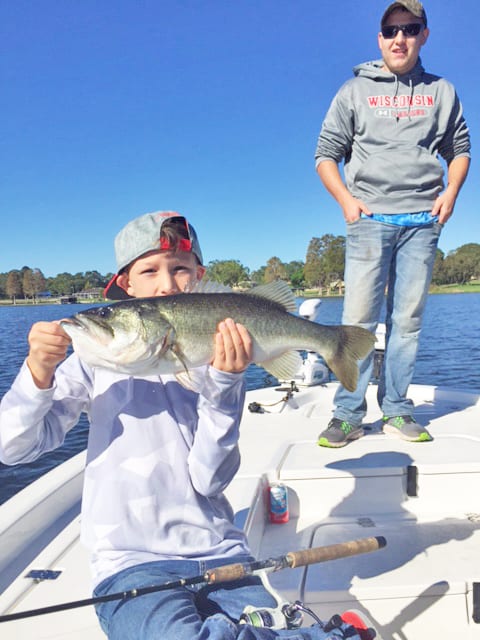 It's hard to believe that I'm already writing for the December issue when it feels like I just finished last New Year's edition… That being said, Paula and I want to wish everyone a very Merry Christmas!
We hope that everyone's nets are filled with family, friends, joy, love, happiness, and A LOT of big bass!
So far in November we have had nights in the 60's with nothing usually higher than 85 during the day. That has been a very good thing for these bass that had been suffering through 85-90 degree water temps for months. As of mid-November, the water temperature in Central Florida is down and averaging 73-75 degrees.
In Winter Haven on the South Chain the cooler temps make for some very fun fishing as the bass are less lethargic and are feeding with more aggression. With families, kids, and people that just don't get to fish a lot, we have a combo meal of small/medium domestic and medium/large wild shiners being trolled behind the boat. As always, there are rods rigged-up with the holy trinity of baits: flukes, swimbaits, and senkos (along with the obligatory topwater.) As for artificial baits go, natural colors like watermelon red/pearl or glimmer blue work very well for plastics. Fishing the "dirtier" lakes on the chain, use a deep junebug or black and blue pattern. If you like a topwater bite, it is hard to beat a Rebel Jumpin' Minnow or Pop-R.
When we are fishing out of Camp Mack's River Resort on the Kissimmee Chain, we usually take a different approach. Frogs and Gambler EZ Swimmers thrown thru the jungle of pads, kissimmee grass, and any hyacinth you can find are always a good bet. If the temps stay cooler there will be a wave of prespawn fish moving up onto the flats looking to feed and prepare for bedding and this will make flipping the flats a more productive pattern. For family trips we'll always have native wild shiners and we have plenty of pockets and points around the lake to set-up shop and let the kids each have a rod with a shiner out. I honestly love seeing the competition between siblings heat-up the moment that first fish is in the boat!
We'll also have a wave of snowbirds migrating, so the lakes will have more boats than usual for months to come. Common courtesy, and common sense, will serve us all well as we all try to enjoy a day on the water. Please respect each other, and other people's space while fishing this season. If you find people fishing a point or any stretch of shoreline, please be considerate and give each other space – there's plenty of water for everyone. Catch, Photograph, and Immediate Release are vital to conserving our resources so please help protect this wonderful resource we have in The Bass Fishing Capital of The World.
Submitted By: Capt. Scotty Taylor
TMC Guide Services, llc • 855-354-8433
Scott@TMCGuideService.com • TMCGuideService.com
Capt. Scott is the official guide for
VisitCentralFlorida.org & Camp Mack's River Resort