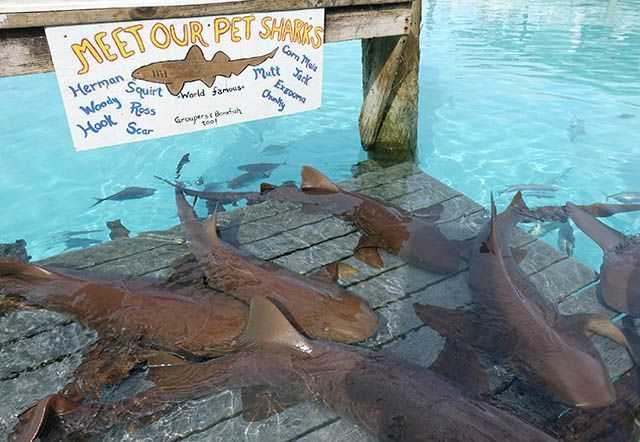 [dropcap]T[/dropcap]he islands of the Bahamas are known the world over for their incredible and diverse shark populations, but nurse sharks are often overlooked. They don't demand the same attention and awe as a great hammerhead or tiger shark, but they are still one of my favorite species. Baby nurse sharks, called pups, are approximately 28 cm (11 inches) when they are born and are covered with dark spots. They are great ambassadors for sharks because it cannot be denied that they are adorable and this is not a word the majority of the world uses to describe sharks.
We recently visited Compass Cay in the Exumas and not only are their nurse sharks appreciated, but they are actually celebrities (just check Instagram to see hundreds of images of these sharks). When we planned our trip to nearby Staniel Cay, I wanted to swim with the pigs, but the nurse sharks were at the top of my list. We rented a boat and headed north to meet these sharks and were definitely not disappointed.
They have names and on cue they swim onto the platform and pose for tourists. This could easily become a rodeo, but owner Tucker Rolle, makes sure these sharks are respected and well taken care of. You can safely interact with the sharks, but there is no need to ride, grab their tail or harass them just to get a selfie.
I was like a little kid, sitting right in the middle of these beautiful creatures and chatting to them as I snapped images. I am sure everyone there, including my in-laws, thought I was a little crazy, but I was in shark heaven.
After hanging on the platform for a little bit we jumped in for a snorkel. The water in the marina is crystal clear and it is like being in an aquarium. The sharks swim around along with bonefish and snapper. This is an ideal place to introduce anyone young and old to the beauty of these often misunderstood creatures.
Compass Cay is definitely on my list of favorite places in the world and I hope to make a visit each year!
For more information you can check out their website http://www.compasscaymarina.com/. To learn more about nurse sharks check out www.sharks4kids.com.
[easy-social-share]