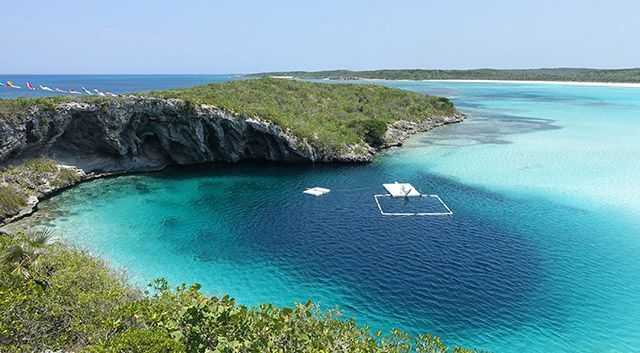 [dropcap]D[/dropcap]ean's Blue Hole is the deepest in the world at 660 feet and is a major tourist attraction for those who visit Long Island, South Bahamas. Cliffs protect it from one side with shallow bay and white sand beach stretching in the other direction. It's a truly stunning natural phenomenon, not be missed if you visit the island.
Each year, world champion freediver William Trubridge hosts the Vertical Blue freediving event here, attracting athletes from around the world. Dubbed the "Wimbledon," of freediving, the competition consists of three disciplines of freediving; free immersion (using the rope to pull oneself up and down the line-no fins), constant weight (dive without touching the guide line using fins or a monofin) and constant weight no fins (diving without touching the guide line or using fins-purest form).
At this year's event, 28 national records were broken from countries including Mexico, Australia, Sweden and Slovakia. Athletes compete for the top three places in each discipline as well as the top three male and female athletes overall. This year's overall winners were:
William Trubridge, New Zealand
Ryuzo Shinomiya, Japan
Alejandro Lemus, Mexico
Sayuri Kinoshita, Japan
Tomoka Fukuda, Japan
Katarina Linczenyiova, Slovakia
The camaraderie, not the competition, is actually what most of the athletes site as the reason for traveling so far to attend. Even though they are all competing with each other, there is no shortage on congratulatory hugs and high fives after a successful dive. There is lots of laughter on the beach throughout the day and even though my husband and I were there to film the event, were made to feel part of the family.
No matter where people come from, freedivers have a common bond; a special connection and love for the ocean. Diving on a single breath is the purest way to interact with the ocean and the animals that inhabit it. As we chatted with these athletes they all described their intimate connection with the sea.
Diving to depths of over 300 feet seems extremely dangerous to most people, but in reality, the training and the safety procedures put in place are making this sport safer and safer. Athletes, especially those from countries are new to the world of freediving, hope that they are setting an example for others to not only try freediving, but to find their own connection with the ocean, which in turn might encourage them to do more to protect it. While freediving is arguably the most beautiful sport, it is something much deeper than that, literally and figuratively.
To learn more about this event check out www.verticalblue.net.