by Capt. Michael Savedow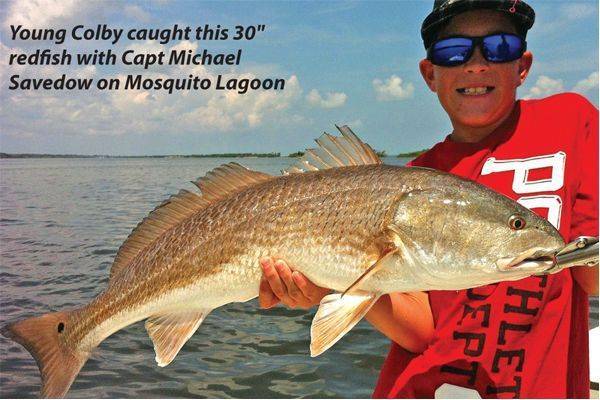 The chilly weather that normally comes in November will bring changes to fishing in the Edgewater Backcountry. This is usually the last month to catch our subtropical inshore migrating game fish including jack crevalle, tarpon, and ladyfish, which will be heading south to spend the winter in southern Florida as the water temperature drops in our area. Filling in that level of the inshore food chain is the predator bluefish, which will be prowling the backcountry & ICW until mid spring next year. Also increasing in numbers here for the winter are sheepshead & black drum, both of these black & white striped fish eat primarily crustaceans & shellfish so bait with shrimp, fiddler crabs, or blue crab pieces. Bluefish on the other hand eat just about anything that swims or crawls, live or dead, shrimp or bait fish, almost any lure will work, they do like to chase fast moving prey so a quick action, flashy lure can be good, also a fun easy fish for fly fishing action.
Try for bull redfish this month in the Intracoastal Waterway channel. These 20 plus pound reds are most often caught in & around Ponce Inlet but also make their way into the Indian River, fish the New Smyrna bridges along the deep area near the channel and in the ICW where deep drop-offs can be seen on your depth finder. Fish the bottom with live baits such as larger finger mullet, pinfish, or pigfish, also try cut mullet, mullet head, or half of a blue crab which could also get bit from a good black drum. Also try drift fishing with lip hooked live baits or a blue crab along the channel edges. Use heavy enough tackle to land the big fish fairly quickly or they will fight themselves to exhaustion, we want them all to survive, as this time of year they are busy making baby redfish for our future.
FORECAST BY: Capt. Michael Savedow
Edgewater River Guide
(386) 689-3781
www.EdgewaterRiverGuide.com