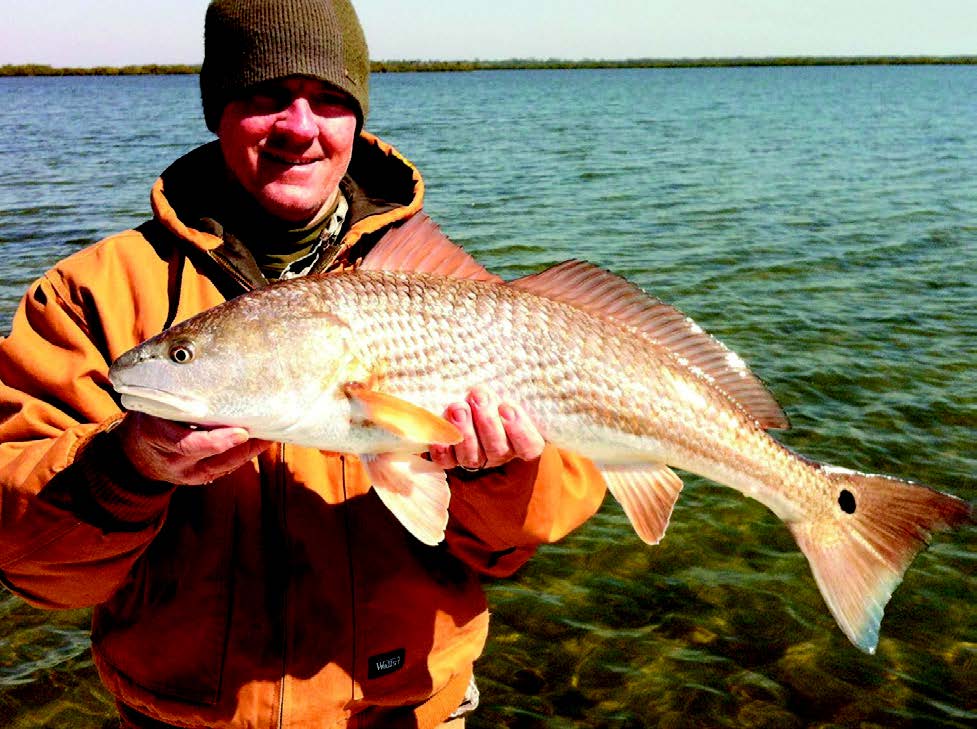 April usually brings a strong shrimp run through our area on the Intracoastal Waterway and backcountry, they are spawned in the grass beds of Mosquito Lagoon where they start as tiny little crustaceans, growing up in the protection and food sources contained in the seagrass, which is crucial to the entire food chain and health of our coastal lagoon system. In spring they travel past Oak Hill, Edgewater and New Smyrna on a path to exit the estuary at Ponce Inlet, riding the outgoing tide primarily at night towards their destination in the ocean where they grow to full adult size.
As they pass through the inshore waters shrimp are main food source for all game fish, the way to target the different species is by choosing types of locations and using techniques to fit your fishing spot, for redfish in the backcountry stick mainly to shallow water flats, flooded shorelines, and oyster bars; seatrout go to deeper drop offs and points with a current break; snook, sheepshead and snapper hang around structure like docks, bridges and jetties; jacks, ladys and blues like open water, mid water level to the surface and bait attracting structure with flowing current; on the lagoon's shallow grass flats, sight fish schooling redfish and black drum, look for pushing wakes and tailing fish, also seatrout spread over the grass and off the edges.
Use as light a leader & weight as you can get away with where ever you are fishing to produce the most bites with a natural presentation. Artificial lure anglers can use DOA shrimp, Gulp shrimp, or other soft plastic imitations to match the hatch during the run. A great time for fly fishers to tie on a shrimp fly. With the spring run of bait fish also still in the area, keep an open mind and try different baits and lures as good fishermen always should. The Ponce Inlet jetties can be very fishy in the spring, flounder are one of the main attractions on the New Smyrna side, the flat fish have been deep offshore during winter, spawning on the bottom of the ocean, they return to inshore waters with many stopping to feed at the jetty rocks.
Fish as close to the rocks as possible, best baits are lip hooked small size live finger mullet and mud minnows, with live shrimp and jigs second choice. Regulations on flounder are 12" minimum size with a bag limit of 10 fish. Black drum, redfish, sheepshead, mangrove snapper, pompano, and whiting are also possible catches on shrimp around the rocks. Jack crevalle, blues, and spanish mackerel can be great fun on Gotcha Lures worked fast off the jetty during times of clear ocean water. As water temperatures rise, top water lures become more productive with mullet bait fish returning to the shallow water after staying deep and further south during winter.
First thing in morning can be most productive for "walk the dog" artificials, on grass flats, around oyster bars, near shorelines, and over the top edge of drop offs. Good choices include Skitterwalk, Chug Bug, Zara Spook, soft plastic types DOA Airhead, and jerk baits. Presence of bait fish is always a plus for top water action as the lures imitate an injured finger mullet in our saltwater area, as game fish shadow bait schools looking for that easy meal. Best technique to hook up with top water is keep working your lure until you feel the fish's weight bend your rod, not when you see or hear the blow up.
Capt. Michael Savedow — Edgewater River Guide
www.EdgewaterRiverGuide.com • 386-689-378