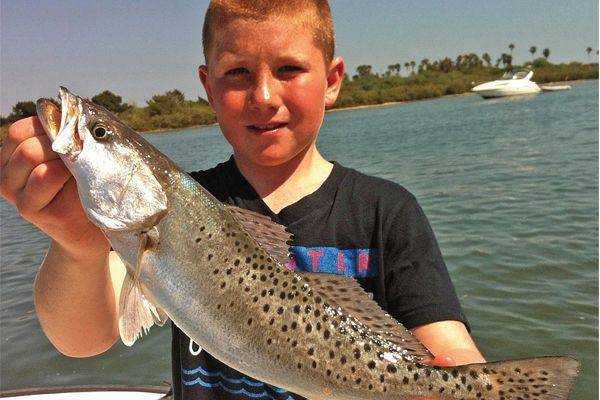 By Capt. Michael Savedow
April fishing in the Edgewater Backcountry is influenced by the spring shrimp run on the Intracoastal Waterway. The lagoon spawned shrimp are making their move from Oak Hill, through Edgewater and New Smyrna on a path to the ocean on each nights outgoing tide. Redfish, seatrout, snook, flounder, black drum, sheepshead, tarpon, jack crevalle, ladyfish, bluefish, whiting, pompano, snapper every fish swimming eats shrimp. You get the idea.
The way to target the different species is by altering your fishing methods and locations, for redfish stick mainly to shallow water flats & oyster bars; seatrout go to deeper drop offs along the channels or grass flats in the south end of the backcountry. For snook, sheepshead & snapper fish around structure like docks, bridges & jetties; flounder & black drum will be right on the bottom. Jack crevalle, ladyfish & blues like open water, mid level to the surface. General rule is to use as light a leader & weight as you can get away with wherever you are fishing to produce the most bites with a natural presentation. If blues are biting go to a heavier leader or long shank hook to deal with the teeth.
With an outgoing tide still running at sunrise, fish the ICW and the "old channel", first thing early morning, you may see fish striking the surface with flipping shrimp trying to escape, most likely fish here will be trout, jacks, ladyfish, or blues. Fish free lined shrimp, soft plastic imitation or fly right into the action. This is the perfect scenario for fun sight fishing by spin fishers & fly casters. It does not last long, as after the sun is up a bit, the action will slow on the surface, then time to go deeper with your baits. Also another technique which can really produce during the shrimp run is night time dock light fishing, free lined shrimp drifted right through the circle of light at the end of a "good" dock on the outgoing tide is as close to a sure thing as you can get for seatrout, unless the blues, jacks, or ladyfish are too thick for the trout to eat. A "good" dock is close to the edge of the channel with a good tidal flow anywhere from Oak Hill to Ponce Inlet.
Capt. Michael Savedow
Edgewater River Guide
(386) 689-3781
www.EdgewaterRiverGuide.com