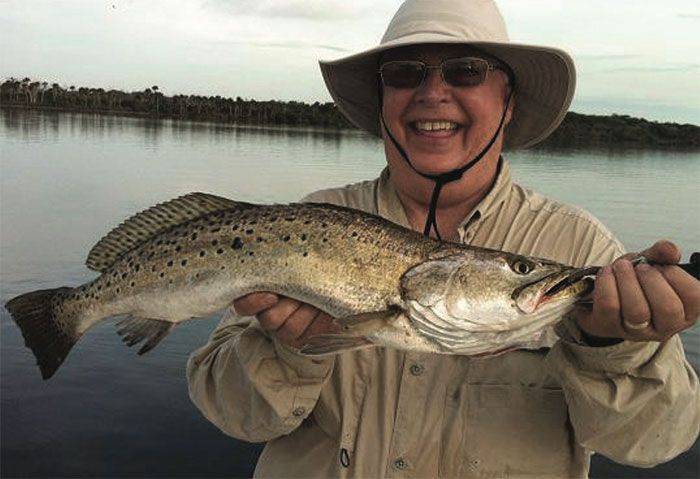 [dropcap]M[/dropcap]angrove Snapper are good to target during August in the Edgewater Backcountry, they have been growing all year and many are getting to keeper size of 10" by late summer and into the fall. They are structure oriented fish, hanging around docks, jetties, any underwater rocks, and drop offs in the backwaters. Shrimp is always a good bait for river mangos, but to target larger fish, go with any type of small live bait fish or cut bait. Bag limit is 5 per person, remember to pinch the tail to measure over all length.
In late summer the numbers of large bull redfish expand from Ponce Inlet southward into the ICW channel at New Smyrna and Edgewater as they prepare to begin their fall spawning in the inlet. A popular technique to target them is drifting the channel edges, riding the tide, slow trolling live pinfish or pigfish which will plane down into the middle and lower water column, or drifting the edges while free lining the bait fish or blue crabs. Best to use heavier 20 to 30 lb test tackle as the prolonged battle using lighter line can't be good for these large reds which will typically be 25 to 35 lbs or larger, harmful lactic acid builds up in a fish during a very long fight, warm summer water with lower oxygen levels adds to the stress put on the big fish which are our baby redfish makers for the future. Never hold a big fish destined for release vertically by the jaw with a gripper tool for photos, always hold it horizontal for its best chance of healthy survival.
A great all around bait for the dog days of summer in the backcountry are the very small locally born finger mullet that are found in good numbers now, you will see schools on shallow sand bars early in the morning and cruising shorelines and edges during the day, they have not been in school very long, are not as educated as larger mullet and will just swim along their way making for easy cast netting. A great bait for shallow water redfish and trout, great for targeting those larger mangrove snapper, and are more pinfish resistant than shrimp. Fish them deep during mid day, lip hooked with a small sinker in deep holes and channels with a running current for those game fish on the bottom during the hottest part of the day.
By the end of the month our first sign of fishy fall will arrive with the very first schools of "scout" migrating mullet coming in from the north, signaling the start of the coming fall mullet run and inshore game fish migration. First sign of these mullet is around Ponce Inlet as the baitfish travel the surf line with some entering inside the inlet area. Love the change of seasons with new fishing patterns on the way.