by Capt. Michael Savedow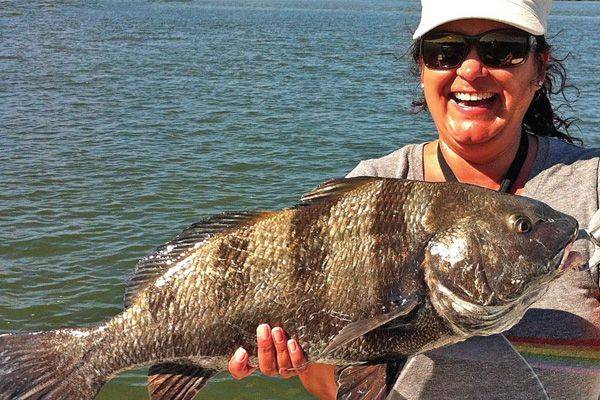 How fast another year went by, it is already December, the late fall transition is ending and winter patterns begin. As water temps drop, the Redfish will be forming into their winter schools, on sunny days search the shallow mud and oyster bays, coves, and creeks in the northern and middle sections of the area, in the southern end of the Edgewater backcountry, the shallow grass flats in the waters of Canaveral National Seashore Park will also be home to many of these schools for the duration of the winter. On cloudy chilly days, some will still be in the shallows, but also be looking closer to the edges near deep water as they drop off deeper during the colder night time temperatures. Winter is mainly a sight fishing pattern for Reds, hunt and locate the school, then try your luck and skill to get them to eat your offering. A live select size shrimp is the go to bait, but a small live finger mullet or chunk should also get the job done. Smaller size soft plastics, Gulp shrimp, Aqua Dream spoons, or your favorite artificial for those looking for a little more challenge. Fly fishers should consider crab and shrimp patterns.
For black drum use shrimp or piece of blue crab, fish the bottom in channels, deeper holes, drop offs, and around the bridges on the ICW. Sheepshead are also a winter target species, they have small hard mouths, so use a smaller sharp hook, bait with fiddler crabs or peeled shrimp at bridge and dock pilings, rock piles, and oyster bars near deeper water.
Have a great Christmas! Hope you get all the new fishing stuff you ask for. Then comes New Years Day, my favorite holiday of the year as it signals the start of another great year of fishing and the anticipation of the different fishing seasons and patterns to start all over again.
Capt. Michael Savedow Edgewater River Guide
(386) 689-3781
www.EdgewaterRiverGuide.com