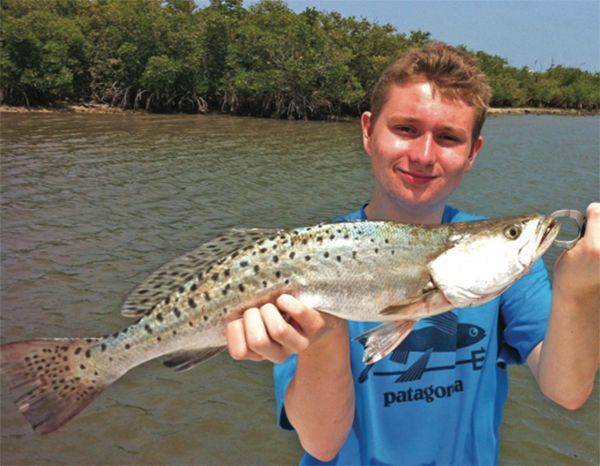 Matt and his dad had a great time Trout fishing in Edgewater Backcountry with Capt. Michael Savedow.
[dropcap]J[/dropcap]une means summer has returned to the Edgewater Backcountry, if you are hunting Redfish, stick to shallow water areas, on incoming tides with higher water seek out submerged oyster bars and flooded coves, bays, or shorelines with oyster edges and mangrove roots. Fish free lined finger mullet, top water lures, or unweighted soft plastics as close as possible to the shallow structure as Reds will be in tight, searching out food hiding in the shells and roots. A tight drag and braided line will help you pull your Red out of the danger zone in the first few seconds of the fight before you get cut off in the sharp structure. On lower outgoing tides go to the edges of the now exposed oysters, and between the bars in the many shallows coves in the area. In the southern backcountry, Canaveral Seashore Park waters add shallow grass flats to the equation of Redfish holding areas, look for mixed bottom and mullet schools rooting in the grass for algae, displacing shrimp, baby crabs and more easy food which attract Reds and Seatrout. June also means live pigfish baits are again available for live bait trout fishing on the drop offs.
Summer vacation is here, take those kids out fishing, make it easy for them to catch a bunch of fish. For the younger children, a good way for them to learn new fishing skills is to fish for the small abundant pan fish, such as mangrove snapper and sailors choice, they will learn basic techniques which they will use in years to come to fish for larger and better fish. Use a small #4 or #6 hook, a light weight, and bait with a small piece of peeled frozen shrimp, fish in the right spot and the kids will catch small fish one after another, they will learn to bait a hook, fight their fish, then safely unhook them, a quick photo of a few, and learn about catch and release. For kids with a little more experience, teach them to freeline with live shrimp or cast rubber tail jigs, and they will catch seatrout, ladyfish, jack crevalle, and more. Don't make it complicated, keep it easy and fun. Teach them about conserving our marine resources, and to be good stewards of ourwildlife in to the future.