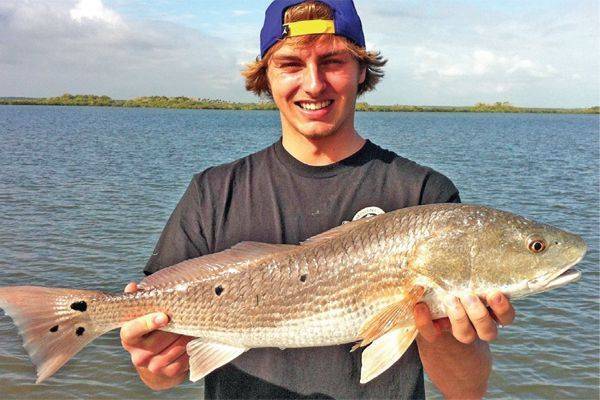 by Capt. Michael Savedow
March in the Edgewater Backcountry will bring changes to the fishing patterns as spring begins and water temperatures rise. By the end of the month, the coastal migrating fish will begin their northern journey after wintering in southern Florida. Schools of baitfish such as glass minnows (tiny bay anchovies), mullet and pilchards will be followed by our Atlantic inshore migratory fish. Jack crevalle, bluefish, pompano, spanish mackerel, ladyfish, and later tarpon will be joining our resident species seatrout, redfish, sheepshead, flounder, mangrove snapper, and black drum., to name a few. All will be feeding on these baitfish and spring run shrimp, so use lures and flies which imitate them. Freelined live shrimp is always a good choice for any of these fun game fish. For fun fast action look for the schools of jacks, blues, and ladies throughout the area, along the ICW from New Smyrna and the bridges all the way to Oak Hill. Also in the "old channel" from Edgewater to Government Cut. Sometimes visible on the surface, look birds diving orsplashes from fish striking baitfish or chasing shrimp on the surface especially on an early morning outgoing tide. Not always visible on top, the schooling fish can also be stacked up down deep on channel edges, shoreline drop-offs or points and creek mouths with good current flow.
Another northbound migrating fish to target in March (and April) are the adult giant black drum which will pass through our area along the bottom of the ICW channel. Fish at night with half a blue crab or a jumbo shrimp on the bottom of the channel, also near the edges of the channel, or around the bridges in New Smyrna. Use heavy tackle to subdue these large fish which are 30 to 50 lbs and up in a reasonable length of time, as to release them unharmed to go off and make lots more baby drum for our future. The Florida record was a spring migrating fish of 96 lbs caught April 12, 2001 at Fernandina Beach. World record black drum is 113 lbs caught in Delaware back in 1975..
Capt. Michael Savedow
Edgewater River Guide
(386) 689-3781
www.EdgewaterRiverGuide.com