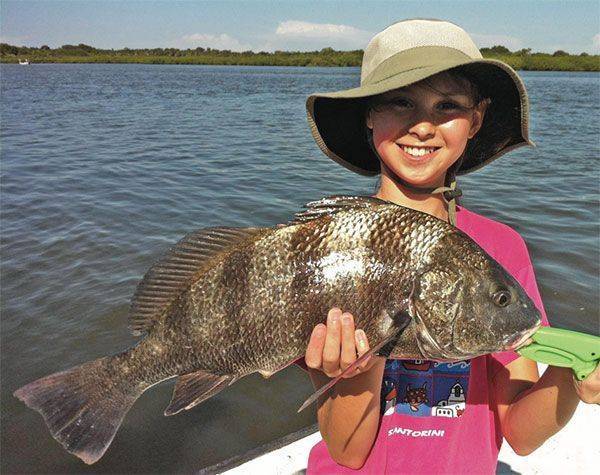 [dropcap]F[/dropcap]all arrives this month according to the calendar but late summer patterns and water temps normally continue through September with the most notable change being the mullet run in the surf, inlet and Intracoastal Waterway. Schools of mullet of all sizes appear in our waters as they make their way from the north, heading down the coast, ending up in south Florida by late fall to spend the winter there. Along with the baitfish, making the same annual migration are inshore coastal gamefish, tarpon, bluefish, jack crevalle, ladyfish, spanish mackerel, and pompano. Look for early morning schooling finger mullet swimming south along the ICW, predator fish can be tailing the baitfish, attacking on the surface as they go, time to get your topwater lure or bait into the action for good size jacks, blues, or ladyfish. A great opportunity for fly fishermen to sight fish the surface attacks also. Cast net some of the mullet for use through the day, they can be freelined on the surface or fished with a small weight below the mullet schools.
Snook season opens September 1; limit is 1 per person, with a slot limit size of 28" to 32". Target these keeper size snook by using a larger live baits or lures. Bait with mullet, pigfish, pinfish, or select size shrimp, to attract the big one. Lure types range from larger lipped swimmers on the surface to heavier shad tail or bucktail jigs for probing deeper along pilings or jetty rocks. Being structure oriented and ambush feeders, concentrate efforts at docks, bridge pilings, jetty rocks, and deep drop offs. Night time targeting of lighted docks and the New Smyrna bridges is a good choice for night owl snookers. They also can be caught in the brackish waters of the Spruce Creek region near drop offs and points. Oak Hill docks and HauloverCanal are good to try in the southern part of our region.
Speaking of night time dock lights, late summer through early fall remains a great time for this after hours fishing, in addition to snook possibilities, seatrout will be the main target at the dock lights from Edgewater to Oak Hill, freelined live shrimp being the go to bait, but small size lures or small cast netted finger mullet also work. The docks closer to Ponce Inlet may also hold other game fish coming in with the mullet run such as blues and jacks.
Redfish are always a September target, bull reds in the ICW channel and near Ponce Inlet as described in my last months CAM report. Slot size reds in the backcountry shallow waters, stick close to shorelines, oyster bars, and grass beds. Fish live finger mullet, tail hooked and freelined, try top water lures early in morning for explosive surface strikes, remember to always wait to feel the fishes weight on the line before setting the hook with top water lures.