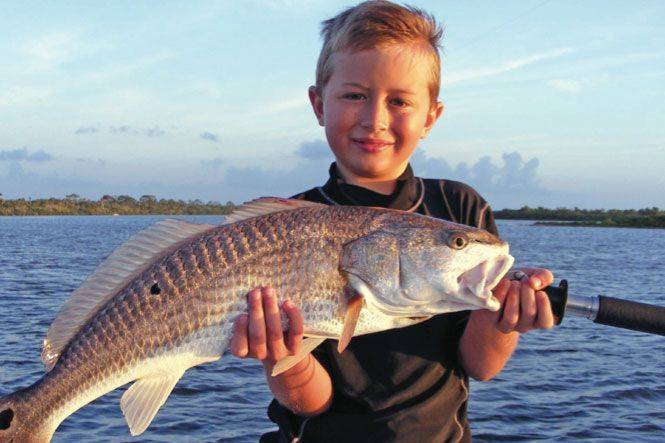 I am excited to the first day of fall coming in September in the Edgewater Backcountry. Seasonal changes will soon follow. The mullet run begins this month. You will find mullet along the beach and outside the inlet. If the mullet schools come inside in numbers, then game fish will follow. Look for tarpon, jack crevalle, bluefish, and ladyfish. Fish in and around the bait schools with live or fresh mullet, finger size for the jacks, blues, and lady fish, full size mullet for tarpon. Free line baits on the surface or fish them deeper with a small weight under the bait schools. Lure and fly fishermen can have good productivity.
Beginning this month expect to see the return of larger numbers of bull redfish in the ICW from Ponce Inlet as the fall spawning season begins. Most of the big reds will be near the inlet, but someone of them make their way into the IICW where they can be caught
on the bottom near the bridges in New Smyrna Beach, the deeper edges of the ICW channel, and in the old channel at Edgewater. Bottom fish for them with live mullet, pinfish, pigfish, or blue crabs, or drift fish along the channel edges with blue crabs or live bait hooked through the lips. Use heavy enough tackle to subdue the fish quick enough to release them unharmed. The best way to photograph your trophy red is to hold them horizontal and not to hang them vertically by the jaw, as this can be very damaging to their healthy survival. Here's a handy way to estimate your catch. Divide the square of the fishes' length and girth by 800.
FORECAST BY: Capt. Michael Savedow Edgewater River Guide
(386) 689-3781
www.EdgewaterRiverGuide.com