Last year at this time, we had plenty of pompano and plenty of fleas to be dug, right in the sand by our fishing poles. My, how things have changed this year! Sand fleas are basically gone.
We're still pulling in a few pompano and a few permits, which is also different because permits never used to come this far North. For the last few years, every now and then, if you tried real hard and did everything right (live blue crab), you could land one.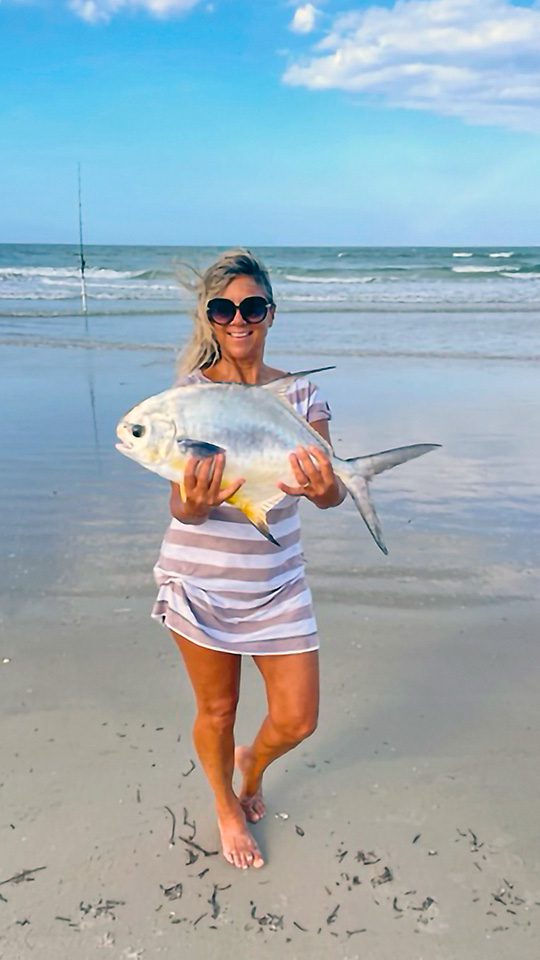 Pompano have migrated north with the cooler water. The water here in the Ponce area is very warm right now. Good for surfing.
One of my theories is that, since the sand fleas are not here this year and the pompano's food is gone, then the fish are gone. It was a solid season, very strong, and we were able to fish through most of the weather, but now the heat is something you have to be aware of.
But as the band Stick Figure sings, "Run, run, river. Carry me back to the ocean," I'm sure they're singing about Ponce Inlet.
It's good to know where to throw your line out. First you have to locate the sandbars. The ditch in front of the sandbar is called "the trough" or "the cut." That's where the inside feeders, drum and whiting, will hole up.
Next, locate the run outs, the holes, and a rip current. This is the prime place where the fish will hang out, and I always cast one short and two long.
It's always good to redo your lines in the morning. I sat on the beach making fishing rigs. I wanted to get ahead of the game. I cut off the stretched and used line and used new hooks and leader today.
Once again, as I'm sitting here in the doldrums, the rod bends over and I'm in the game again. I know it's a permit. Like I said, they've been up here a lot compared to the past.
Just thinking how I lost it twice, but I managed to bring it in! My last one! I smoked it and and made it into fish dip. The reviews for it were great. Tasty!
So it goes.
The reggae music is playing, Stick Figure is in the area, live tonight. We are going. But now, this permit and me, we're heading to the smoker.
— Marcopompano@gmail.com | Surf Fishing Guide | (386) 212-4838