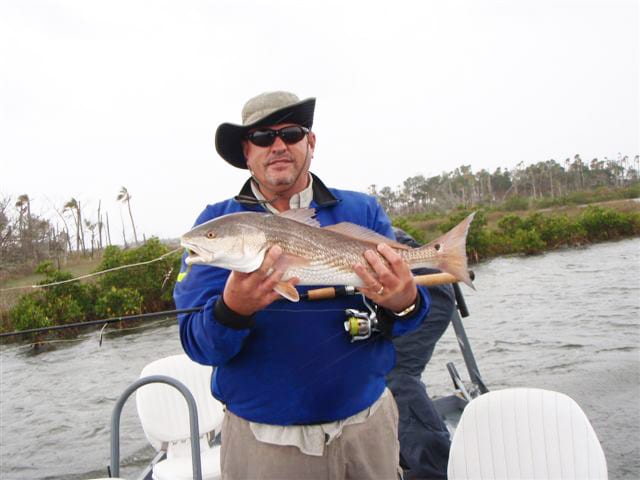 With Winter completely out of the picture, Spring in full force, and Summer nipping on our heals, the month of May is definitely a most favored time of the year for bonuses in angling.
Check it out, the winds have started to subside, the days are longer, the water temps are on the rise (high 70's) but not miserable yet, so the fish are eager to feed up.
Let's do something a little different than the norm and start with the offshore and work our way in.
You'll no doubt pick up some macks and kings this time of year on our near and offshore rock areas in 7' to 12' of water depth.
Closer in the cobes will be hanging on and around our nearshore rock piles. When approaching one, motor down well off, and troll quietly up to it. Anchor up current, toss out a chum bag, and then toss a frisky pinfish around the area. Good chances are you'll take more than one. A lot of times they run in pairs.
Further towards shore. Say in the 3' to 5' depths. The trout have moved out of the river mouths and creeks and extreme shallows stalking the flats in search of most anything thrown their way. Utilize a Fishbites extreme scent release plastic shrimp, paddle tail, or jerkbait under a Cajun-Thunder to locate these fish.
Now……… let's venture further inshore around the islands and my favorite place, the backcountry, to as I would say, Head for the Reds! This is one of about 3 times of the year where you can find some excellent redfishing.
Reason being, they're starting to school up, the water and conditions are getting righteous, the bait is abundant, and they just have to have something similar swim their way to oblige and make you happy with a hookup.
Work the ole proverbial banks, cuts, pockets, and points for the best success. Keep one of 2 or 3 things tied up and ready to toss to em. You do have more than 1 rod to fish with right?
Have a weedless rigged jerkbait in the "chicken on a chain" color by assassin, on one. Have a Thunder-Spin saltwater spinnerbait tied on another. And maybe a live bait hook tied under a Cajun on the third just in case you see some fish, but they're finicky and need to toss a shrimp, pinfish or one of those fresh cut up ladyfish you caught earlier when trout fishing.
Get out and enjoy what our month of May has to offer on the beautiful Citrus County waterways.
And don't forget mom Sunday May 13th. See how I helped ya?? See ya on the waters.
Submitted By: Capt. Rick Burns
Reel Burns Charters
www.reelburns.com
Homosassafishingguide.com
352-201-6111