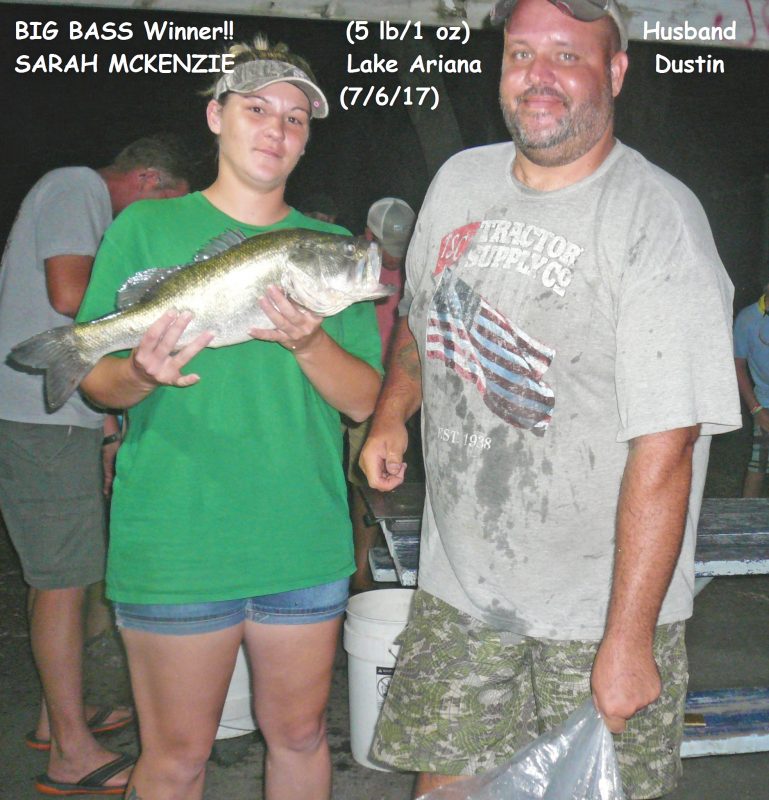 HOT TEMPERATURES and HOT BASS FISHING!! We've had recent reports of several 13+ lb Bass coming in from our own Lake Alfred and some 10+ lb Bass coming out of the South and North Winter Haven chains. Many of these larger Bass are being caught on larger baits, which are also our recommended picks, of the Cordell Pencil Poppers in trout color and/or an 11" Bass Assassin worm in gooseberry color. These baits have been producing very well lately. During this time of year during the hot summer months using a larger topwater bait and/or slowly working a large worm on the bottom seems to attract those BIG Bass we're all after. If you need to fish along the shore line . . your best bet is to use a Booyah Frog in assorted colors or a Booyah Lipless Crank Bait in royalty color. These are proven winners for catching Bass! You don't need a boat to enjoy some great fishing in our area. We have many lakes with very nice fishing piers . . Stop in and see me . . I'll point you in the right direction!
We're still getting reports from the North Winter Haven Chain and Lake Alfred on decent size Blue Gill and Shell Cracker fishing using live crickets and red worms.
Polk County is home to (554) beautiful lakes and offers some of the best fishing in Florida!! The BEST time to go fishing is when YOU can GO!!
Our 19th season of Ron's Tackle Box Weekly Bass Tournaments has now begun!!
As shown in the photo at a recent RTB tournament lady angler, Sarah McKenzie, is proudly showing her Big Bass win . . Not a whopper . . but still the winner!! Weekly registration is $30.00 per boat (1 or 2 man) and the tournaments run from 6:00 PM to 9:30 PM each Thursday through the end of October. Prizes are awarded for BIG BASS and 1st, 2nd, 3rd Place categories. The location each week is not revealed until Thursday mornings and is announced in Del Milligan's column in "The Ledger", our Web Site, "Like & Follow" us on FB, or you can call Ron at (863) 956-4990. All around great fun . . Come out and join us!!
Submitted By: Ron Schelfo
Owner RON'S TACKLE BOX, LLC
380 S. Lake Shore Way • Lake Alfred, FL 33850
863-956-4990 • www.ronstacklebox.com
Check us out on FaceBook and "LIKE" our page.
"Catch" my Weekly Fishing Report every Saturday (6-8 AM) on WFLA 970 AM