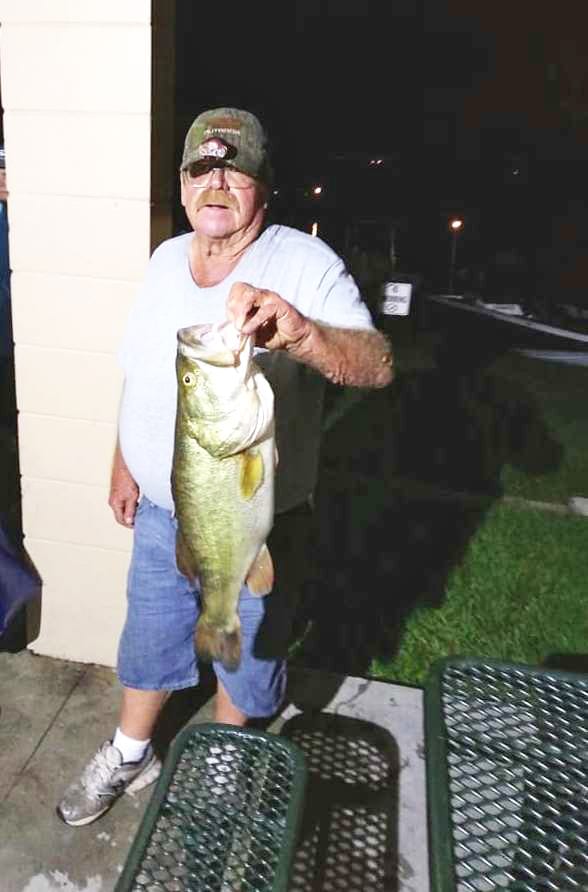 Even in this hot rainy weather Bass fishing has been doing very well. Our RTB Thursday night tournaments are seeing many Bass in the 6 – 9+ pound range. The enclosed photo shows BIG BASS winner, Fuzzy Flores, displaying a 9.25 lb. beauty landed at a recent tournament held August 2nd on Lake Hartridge in Winter Haven. Fuzzy shared a little secret. He was using one of his old favorites. Red's High Floater 8" Worm in Fire & Ice color. If you think you'd like to try them. Ron's Tackle Box has a good supply of that brand available in many colors.
Here in Lake Alfred our lakes are offering some premium fishing as a result of the favorable running water environment created by the abundance of rain. We're getting great reports on Bass, Shell Cracker, Blue Gill, and Catfish coming primarily from Lakes Rochelle, Haines, and Alfred. If you're after Bass, we recommend using Lipless Crank Baits. Fish Head Spinner Baits are also very good with that under spin blade. When fishing Gills or Crackers, your best baits are always Live Crickets and Red Worms.
Fishing in the Auburndale area our best reports are coming in from Lakes Ariana and Juliana. Great Bass fishing with weights in the 3 – 6 pound and limits are reported. When fishing Auburndale lakes you may want to try using a Bomber Fat "A" in Baby Bass color, or Booyah Lipless Crank Bait in Royalty Color.
Heading over to the Winter Haven Chain of Lakes you'll find first-class fishing in any of those lakes. Best fishing conditions are found at the mouth of the canals and areas with fast running water. We're getting good reports on Bass fishing using Swim Baits. Bass Assassin Boss Shiners are a recommended choice. We're also still receiving reports from the Chain of good limits and size on Shell Crackers and Blue Gills.
The 20th season of Ron's Tackle Box Weekly Bass Tournaments is in full swing! Weekly registration is $30.00 per boat (1 or 2 man) and the tournaments run from 6:00 PM to 9:30 PM each Thursday through the end of October. Prizes are awarded for BIG BASS and 1st, 2nd, 3rd Place categories. The location each week is not revealed until Thursday mornings and is announced in "The Ledger" and on our FaceBook page. Of course, you may always call Ron at (863) 956-4990 for tournament information and fishing reports. Our tournaments are all around great fun. Come out and join us!!
Submitted By: Ron Schelfo Owner RON'S TACKLE BOX, LLC
380 S. Lake Shore Way • Lake Alfred, FL 33850
863-956-4990 • www.ronstacklebox.com
Check us out on FaceBook and "LIKE" our page.
"Catch" my Weekly Fishing Report every Saturday (6-8 AM) on WFLA 970 AM