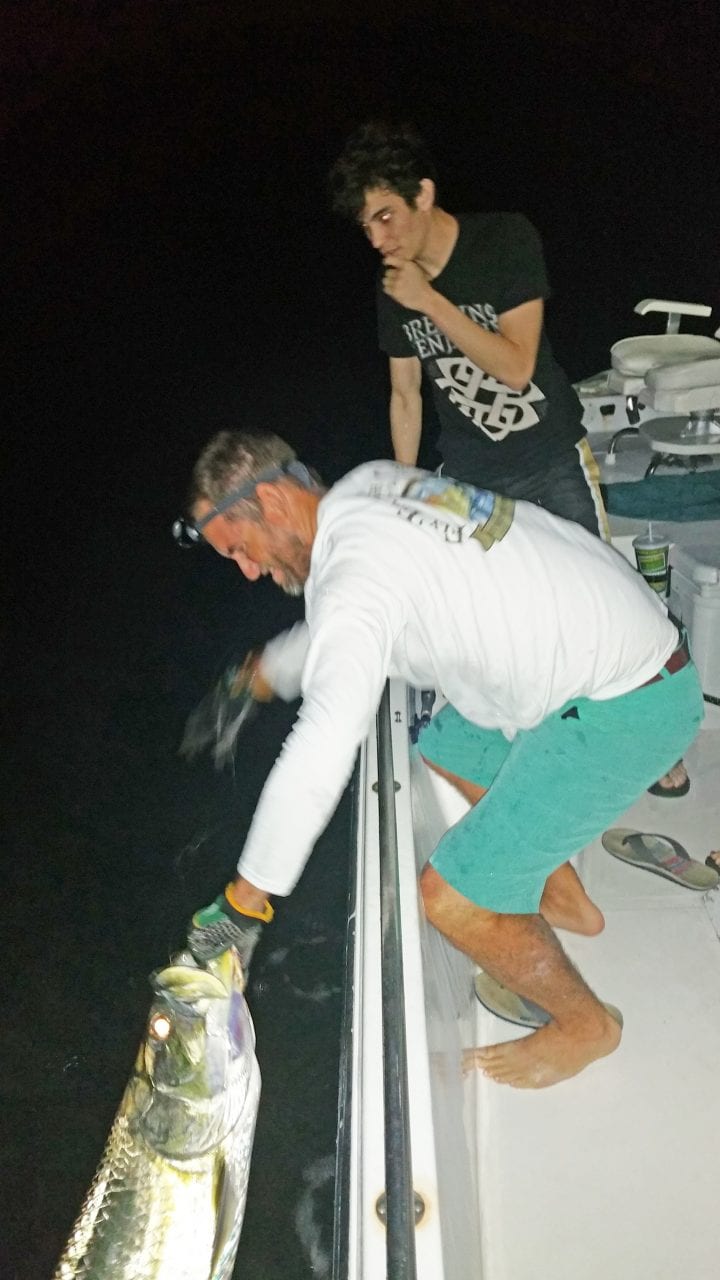 So here we are its May and with that comes my favorite time of year "Tarpon Season"! I've been exclusively Tarpon fishing since April 4. We've been experiencing good results with lots of Tarpon and not a lot of boats. However, the amount of fishing pressure will drastically increase come May and everyone catches Tarpon Fever. As the water continues to warm and more and more bait shows up so will the mass Tarpon migration. When this happens locating schools of Tarpon becomes somewhat easier because they are in so many different places. There will still be resident fish in the backcountry as well as migratory fish on the beaches and massive schools of Tarpon in the larger passes. Tarpon gather in the passes for one main purpose, to feed! They have just completed a long migration and need to replenish their energy for the rigors of spawning.
How and where I Tarpon fish is mostly determined by the moon phases. On the ¼ moons I tend to spend more time idling along the beaches looking for smaller schools of migrating Tarpon and sight casting to them with 8ft 20-40lb Eupro Spinning Rods, Daiwa BG 5000 Spinning Reels loaded with 40lb Fins XS line, 6ft of 60lb fluorocarbon leader, a 5/0 hook and a small blue crab as bait. On the New and Full moons, I tend to focus more time around the passes as the Tarpon will load into the passes and feed on the stronger tides. For pass fishing I prefer to fish traditionally and use 7'6" Eupro 20-50lb Conventional Rods with Daiwa Saltist LD50 Reels loaded with 50lb monofilament line. When fishing traditionally I use egg sinkers from 3-6 ounces held 6-8ft above the hook by a small swivel and then 6-8ft of 80lb fluorocarbon leader to a 5/0 hook and a small blue crab or sand perch for bait. When fishing the passes don't overlook the nighttime bite. Tarpon by nature are nocturnal feeders. Some epic results can be had at night. If you're going to fish at night (for any species) make sure your vessel is seaworthy and you're 100% competent in your navigation skills, low/no visibility navigation can be extremely dangerous.
If you'd like to have your chance to Tarpon fish call me now, I have less than 7 days open in May and not much more available for June!
Capt. Bobby Woodard
www.Captain-Bobby.com
863-224-1418