It's hard to believe that it's now August. Kids are getting ready to go back to school, and I'm sure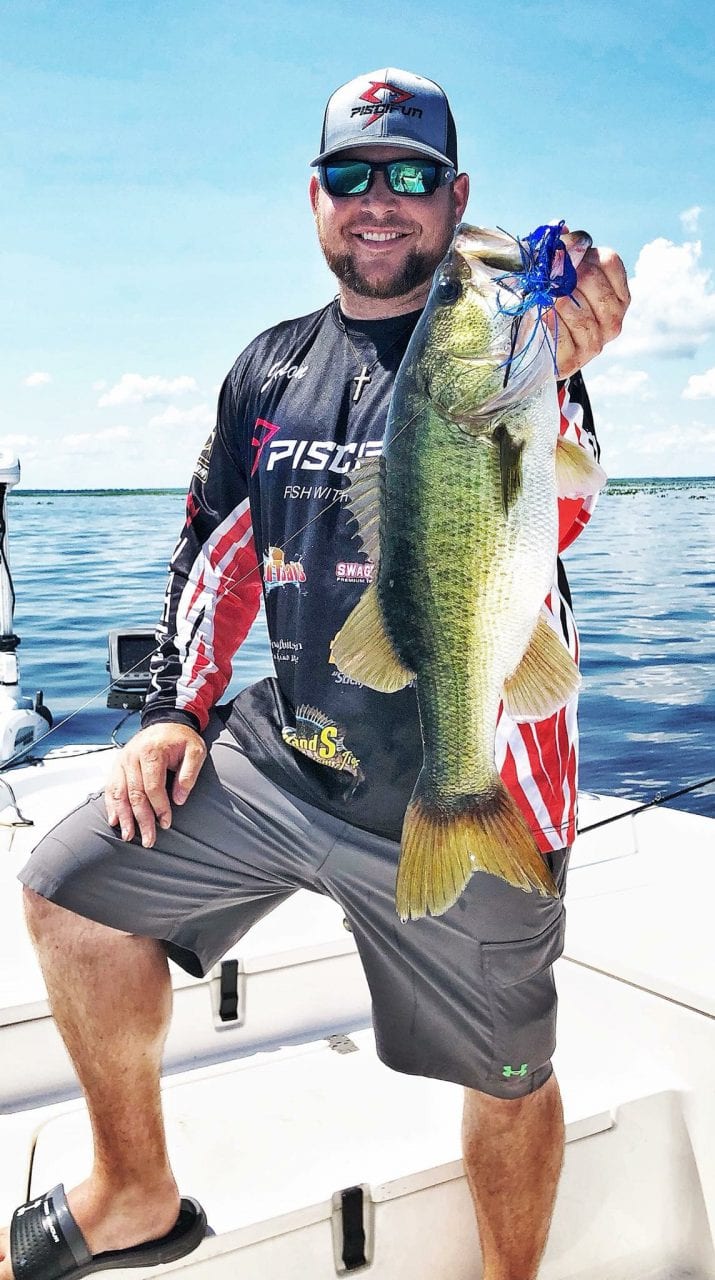 many parents are ready for their kids to be back in school. One of the bonuses this time of year is that the lakes get very little pressure heading towards the fall. There is less pleasure and ski boat traffic during the week with summer vacation over, and it's still too early for the snowbirds to flock the lakes.
We have been blessed here in Central Florida with a wide variety of lakes to choose from. Polk County has 554 lakes that range from most of the Kissimmee Chain, the Winter Haven North and South Chains, and many individual bodies of water surrounding us. If you like shallow heavy vegetation flipping lakes, we've got you covered (sorry for the pun), or if you like deep clear spring-fed lakes you're in luck also.
Let's start out fishing from Camp Mack. Here is where the shallow water fisherman are in heaven. We're had our best results fishing from 2ft-5ft of water, mostly in the early morning around the hydrilla, lilly pads, and kissimmee grass. Oddly enough, we've really enjoyed some great success with a combination of topwater frogs and spinnerbaits first thing in the morning. My mind tells me it should be one or the other on a given day but who am I to argue with the fish when they are biting?! The flipping bite has been steady but 95% of our trips are with people that want to do a little faster fishing, thus the moving baits. Also, do not overlook the value of having swimjigs and swimbaits tied on all morning. Don't forget to take along your favorite topwater baits like a Spook or Devil's Horse. This is not a complete list by any stretch, it is just a starting point and the basics of what work very well on our guide trips making sure clients catch fish and are "Happy Campers."
Heading westward toward Winter Haven, we have so many options of where and how to fish. More often than not, and especially on trips that involve kids and families, I'm heading straight for the clear deep lakes. This allows us to drop shiners behind the boat and give them swimming lessons as we work artificial baits for the bass out schooling around bait. Here, pick your favorite minnow imitation baits in a very of depth ranges from topwater to a deep diver. I generally find that the more active fish are going to be higher in the water column, and the deeper we have to fish, the slower the bait should be retrieved.
Submitted By: Capt. Scotty Taylor
TMC Guide Services, llc • 855-354-8433
Scott@TMCGuideService.com • TMCGuideService.com
Capt. Scott is the official guide for
VisitCentralFlorida.org & Guy Harvey Camp Mack Lodge, Marina & RV Resort