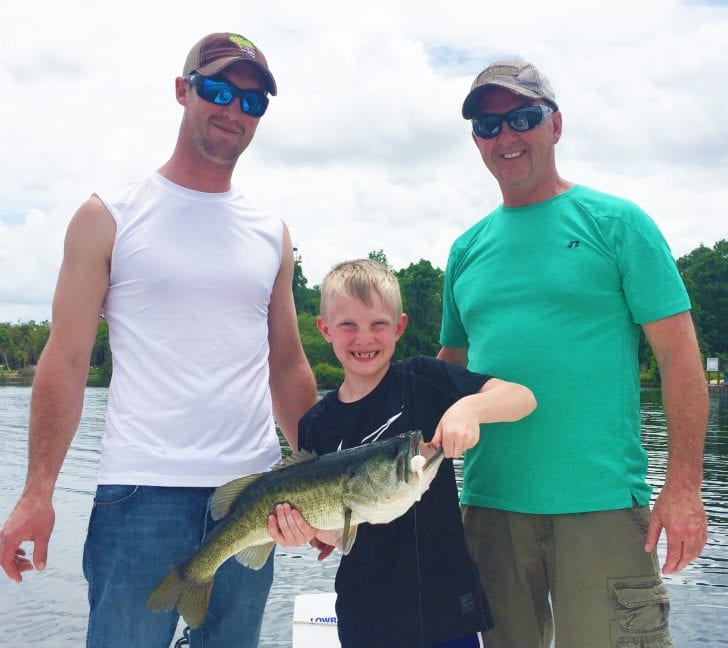 June is upon us, kids are out of school for the summer, the theme parks are bustling with huge crowds, and the bass fishing in Central Florida is as hot as ever! The best thing for clients at this time of year is that we can fish for 4 hours in the morning with very little pressure from other boats, and then everyone can be back to the camp, hotel, or condo to get ready for the parks or beaches for the rest of the day.
Since we are centrally located in Winter Haven, we have plenty of lakes to choose from. Polk County has 554 lakes including parts of the Kissimmee Chain, the Winter Haven North and South Chain, plus many individual bodies of water.
Camp Mack, A Guy Harvey Lodge, Marina, and RV Resort on the Kissimmee Chain of Lakes is a favorite summertime get-away for many locals, and it offers some of the finest bass fishing for anglers of all experience levels. While fishing these lakes for the next couple months, it will really be about a handful of baits. This does not mean so many others won't work, this is my personal quick hit list: Spro frogs, Gambler EZ Swimmers, Bitter's Bait Flukes and Stick Worms, along with your favorite topwater of a Devil's Horse or a Rebel Jumpin' Minnow. These are just a few of my favorites that consistently produce well whether fishing with my wife Paula, or with guests, because we like to turn and burn for active early morning bites.
Moving over to Winter Haven, we are truly a quick and easy 30-ish minute drive south of Disney since traffic is actually light in the early morning. For folks that are staying in Davenport, you're drive is even shorter as we are just 10 miles south of I-4 off Hwy 27. For clients staying in Haines City at either Southern Dunes or the new Balmoral Resort we offer free pick-up & drop-off. The same pick-up & drop-off is available for all LEGOLAND Florida Hotel or Beach Resort guests.
Here in Winter Haven, the summer pattern is in full swing and we have lots of schooling fish with a lot of big fish mixed in for good measure. Here, I really like fishing with flukes, swimbaits, Pop-R's, jerkbaits, and crankbaits of different depth ranges.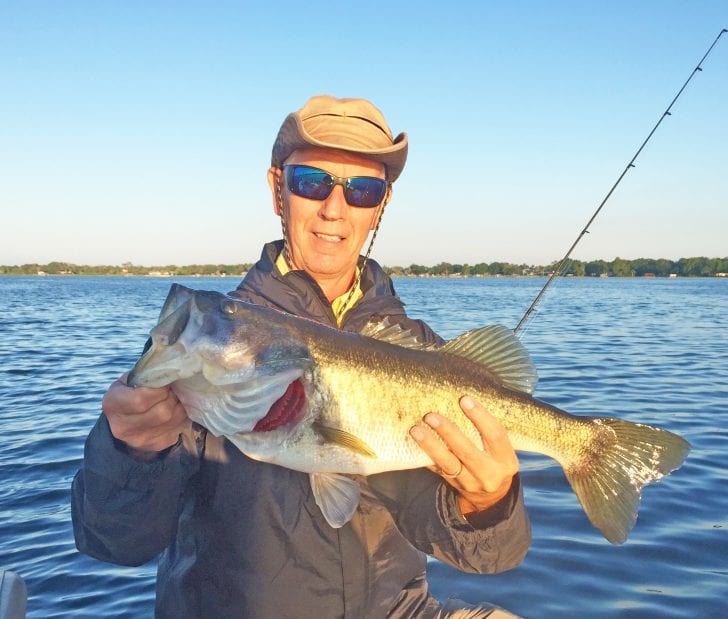 We are "kid friendly" and love having families on the boat, please call to discuss your reservation to make sure we will have everything in order. Live shiners are recommended for most trips, especially with kids.
Capt. Scott is the Official Guide and Partner of VisitCentralFlorida.org, and the Visitor's Information Center in Davenport has many great resources to help guests plan their perfect vacation.
Capt. Scott is also the Senior Pro Guide out at Camp Mack, A Guy Harvey Outpost Lodge, Marina, & RV Resort
Submitted By: Capt. Scotty Taylor
TMC Guide Services, llc • 855-354-8433
Scott@TMCGuideService.com • TMCGuideService.com
Capt. Scott is the official guide for
VisitCentralFlorida.org & Camp Mack's River Resort