By: Eric Henson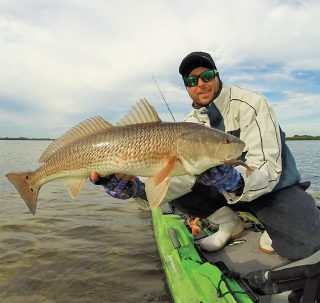 With winter here now in full swing, there will be many high pressure systems and lots of blown out days. So, all of us will have plenty of time off the water to get well prepared to get back on the water! One of the biggest ways to be successful fishing is to take time to prepare well before ever reaching the water. Also, what you do when you get off the water can affect how your next trip to the water will go…
Right before a fishing trip I check all my gear to make sure everything is in good condition. I like to look over my whole kayak checking for anything abnormal from the previous trips. Look for any deep scrapes or holes on the top and bottom of the kayak. Then I tighten any bolts that have come loose and grease any parts that need to be greased like rudder cables, etc.… Lastly, I inspect all my gear that goes on or with the kayak like paddles, rod holders, camera booms, nets, etc.…
Next, I move on to my fishing gear. First thing I always do is inspect all of my line and leaders on the rods/reels that I will be using. Most of the time I just re-tie all of my leaders and hooks to the line just to make sure they are up to par. There's nothing worse than losing a trophy fish all because of being too lazy to check your knots. Been there, done that, and never again! While I'm re-tying everything, I take a look at my lures, jig-heads, and flies to see if hooks are straight, sharp, and not rusted out. Then I check out the reel to see how it is performing and if I hear grinding or squeaking, I usually try some lubricant and if that doesn't do the job, I send it in for repairs.
Last but not least, I check out my rods. I make sure all the guides are in line and none of the porcelain inserts are broken. Then I bend the rods to check for cracks and weaknesses. If the butt of your rod is made from cork and is a little chewed up, you can use a light sand paper to go over it and make it new again.
After any fishing trip in saltwater, it is a must to rinse your gear with fresh water. Be sure to never blast your reels with high pressure nozzles because it can actually force the salt even further into your reel. No matter how expensive or inexpensive your gear is, a little TLC "Tender Love Care" will go a long way…Be Safe! Tight Lines & Tight Knots!
Eric Henson is the owner of Casting Kayaks LLC. a guided kayak fishing company out of Sarasota Florida. He specializes in inshore light tackle or fly fishing from Tampa Bay to Charlotte Harbor. Book a guided fishing trip with Eric at www.CastingKayaks.com or give him a call at 941-504-1349 for more information.