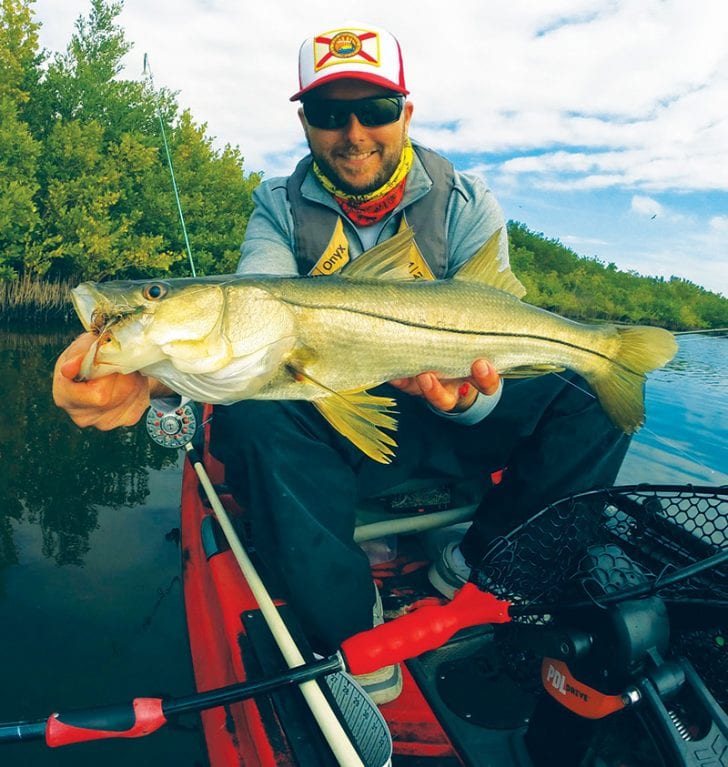 by Eric Henson

Paddle vs. Pedal – One of the number one questions I get asked is which type of kayak do I prefer – Paddle or Pedal? That is a very tricky question because there are a lot of different factors that take place depending on the type of fishing that you are trying to accomplish. Both types of kayaks have their clear advantages depending on what you're looking to do. So, I'm going to give a few pointers on both and hope that it will help you decide what kayak will work best for your application.
Paddle kayaks have been around for a long time and have been uniquely design to glide through the water with ease with just a stroke of a paddle. This making it generally light, narrow, and extremely maneuverable. The best part about them are that they can go virtually anywhere! You only need a few inches of water and you are good to go. If you like to spend most of your time fishing in skinny water or paddling across large bodies of water that are very shallow, then I suggest a paddle kayak. Or, if the body of water has tons of floating grass you will be able to get through it much easier with a paddle craft.
Pedal kayaks definitely have their advantages as well. Although they are generally wider and heavier, they can be quite fast in open water. Also, most of the pedal kayaks have reverse features now and this makes them almost as maneuverable as paddle kayaks. The real game changer is being hands free while you are fishing. Especially fishing deeper areas like offshore, rivers, lakes, etc. Now, when it comes to shallow water capabilities, you really need at least a foot of clearance to get full maneuverability out of it. You can pull the pedal drive out or up on most yaks with ease but now you are stuck paddling a heavy boat. I always suggest if you decide on a pedal kayak, you better be sure that you would be able to paddle it. Because at some point, I promise you will have to paddle it… You do not want to be that person who gets stuck if something breaks, or if it's too shallow to pedal, and you become a sitting duck.
Hope this helps you a little bit on your next decision to purchase either a paddle or pedal drive kayak and I look forward to seeing you guys out on the water. Please always respect the waters and your fellow anglers. Tight Knots and Tight Lines to all!
Eric Henson is the owner of Casting Kayaks LLC. a guided kayak fishing company out of Sarasota Florida. He specializes in inshore light tackle or fly fishing from Tampa Bay to Charlotte Harbor. To book a guided fishing trip with Eric check out his website www.CastingKayaks.com or give him a call at 941-504-1349.