Rich Ellison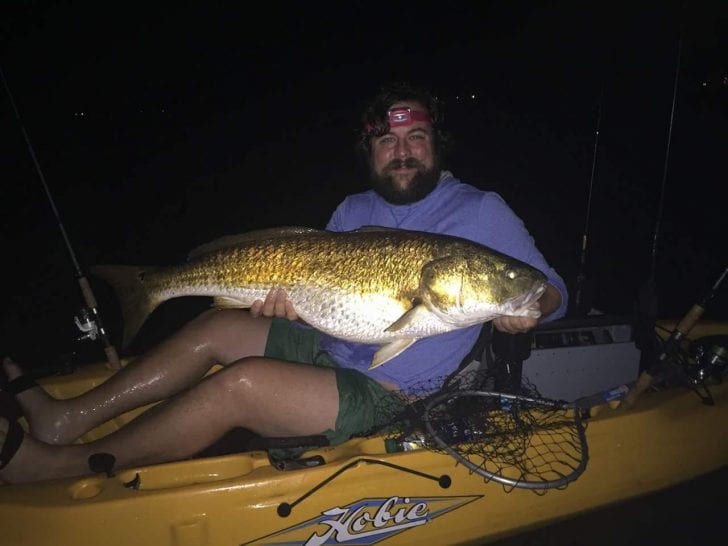 I am a plastic boat enthusiast. We began as a rather small tribe, but in the last decade, kayak fishing has exploded into the mainstream. When I took up the sport, this publication was priceless in the tips and techniques it offered from experts. I have since become friends with the world class fisherman & 2-time Hobie World competitor Benton Parrott (see Kayak Report) his articles in this very magazine are always worth taking note of. I am here to offer you a little different take on kayak fishing. If Benton is teaching you calculus, think of this as remedial math. Very basic, yet very productive.
What if I told you the hotter it gets, the greater the fishing will be? Believe it or not, that is the absolute truth. As we march into summer, the days are going to continue heating up and the fish will slow down and move to deeper waters, until night. More often than not, those redfish and trout can be had in abundance. I discovered this 7 years ago by accident. I know some of you are shaking your heads and saying, "I knew that!" That's great, but I have spoken to enough folks to realize that most do not tap into this wonderful facet of the sport.
Here are the basics. You will need a reliable sit on top kayak. You need a spinning reel equipped with jig heads & grubs, a net, cooler, head lamp, and most importantly life vest & high visibility light. I have had wonderful dealings with Fairhope Boat Company over the years and so have the many people I sent there. They have a great selection of gear and are the only Hobie dealer in our area. Regardless of what boat you get, I do recommend a self-propelled type of boat such as the Outback.
Launch at sunset or later. I always check the tide calendar, but often fish will bite well on a "poor" quality night. Avoid neap tides and you'll be in business. Where should you fish? Anywhere between the Gulf and the Mobile River Delta! The only catch is the water has to be salty. This is not a problem in the summer. Even if we get a lot of rain, redfish will be there. Trout come and go; fickle critters they are. It is a good idea to take a buddy on night trips because you never can be too safe. Always leave a float plan with someone, and if the water seems too choppy go home and try again another night.
As you work your way along the bank, be looking for dock lights. The best ones are very near the water. The light attracts bugs and the bugs attract fish. Be sure to keep a safe distance and a quiet approach. One does not need to fish several lights to fill their cooler. I have had one light produce 13 reds & 7 trout in an hour. Be courteous around any lights you find. If people are on that dock, troll on by. You don't want to encourage them to turn off the lights! Lights that are left on every night will attract fish like crazy. When you find a light to fish, simply cast out your grub and reel it in. There is no need to get fancy with your presentation. If you roll up on a dock and the water appears to have grenades exploding, get ready!
When filling your cooler remember to follow the law! You're allowed 3 redfish (16"-26" with one fish over slot.) Speckled Trout must be 14" with a limit of 10 person. White trout have no limits, but make sure they aren't baby specs. Give night time kayak fishing a try. You may be surprised at how much fun it is!
Rich Ellison
Outback Fishing Adventures
251-223-7085