by Capt David Hare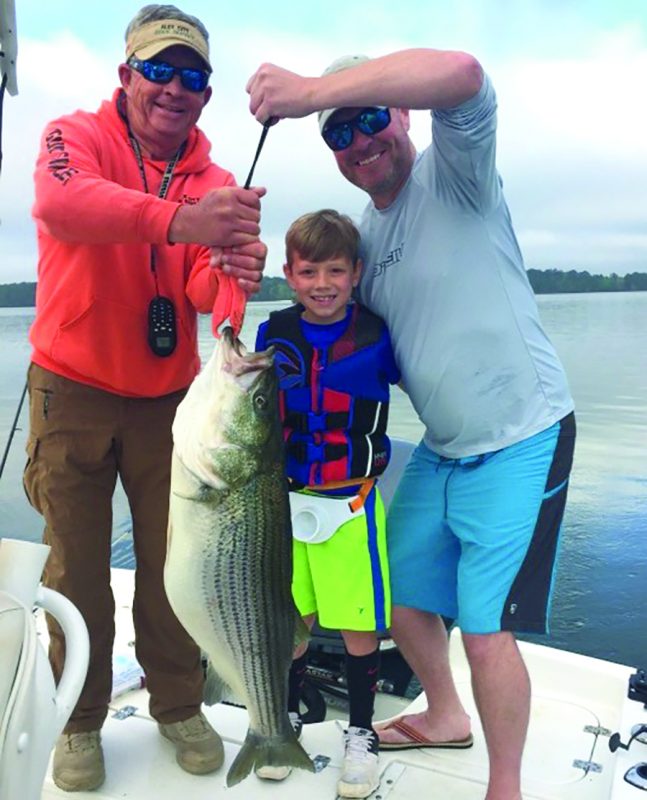 Well folks, April has been a crazy trophy fish month for our guide service. Lots and lots of fish from 20 to 40 pounds have been caught in April. A lot of them were released, and some were sent to our in-house taxidermist. You will see a few of the pictures in this article, but you can check them all out on Facebook excityguideservicelakemartin.
With May brings us a full pool here, and our stripers will be chomping up some live bait on our boats this month. Thinking back to last May, we boated (our client) a 45 pound striper on May 3rd. That's a pig, but definitely not our biggest which to date is 52 pounds (proud to say caught by our guide service). This month a few years back, I saw one of my biggest stripers ever in the Wind Creek area, so needless to say, that's where I spend a good bit of time at May!
Also in May, you need to either fish real early or late evenings unless you have a lot of time to stay on the water. Those two times will be most productive. Dust off your Cannon down riggers (that is our choice of down riggers) dig out your bucktails and your spoons and go trolling for schooling stripers. Look for these smaller stripers in 40 foot water depths and troll around 2-3 mph.
Now if it's a big fish you're looking for and want to catch them on live bait, which is the most exciting way to catch them, then give us a call at 256-401-3089 and book yourself a trip. Remember, we can handle individual trips or multiple boat trips.
Until next time, keep what you can eat and release the rest for your next trip out!