Capt. David B. Hare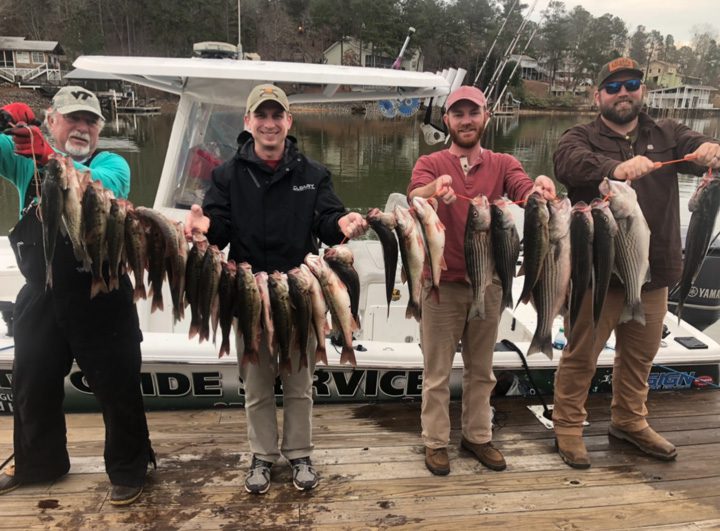 December brings low air temperatures, low water, low water temperatures, low recreational boating traffic and low fishing pressures on most any day.
December is mainly known by most Lake Martin anglers as high volumes of catching going on, high volume of memories being made here with family during the holidays as people come in to visit parents, grandparents and friends. I am very proud to say we have helped make hundreds of fond memories on our charter boats in December on Lake Martin. If you've never done any December fishing on Lake Martin, then you really need to check it out. In December of 2018 it was a record setting month for us including several days with over 40 fish boated and released in a 6hr-trip including December 29th our clients boated 92 fish in 5 hrs. Just another HIGH on Lake Martin that I think of frequently.
This month expect to be able to catch large numbers of bass, stripers and crappie. I'll along with the help of my guide services many great guides will be targeting stripers on most any part of the lake. I love planer boarding big shad in the shallows this month but when clients say they want lots and lots of action then I concentrate on areas that have deeper water that's holding huge schools of fish down deep.
December also brings higher numbers of sea gulls so stay focused on these birds because it's a known fact they will lead you to some feeding fish and if you've never fished around active sea gulls then your in for exciting treat .
If you are looking for something special for someone special in your life then consider a gift certificate from Alex City Guide Service here on Lake Martin its good for one year from date of purchase and who knows they might even bring you along too.
Merry Christmas to all and we hope everyone has a Safe and Happy Holiday Season.
Capt. David B. Hare
Alex City Guide Service
256-401-3089
2036 Cherokee Rd
Suite 205
Alexander City, Al. 35010
davidbhare@yahoo.com
www.alexcityguideservice.com
Fbook/alexcityguideservice/LakeMartin