Capt. David B. Hare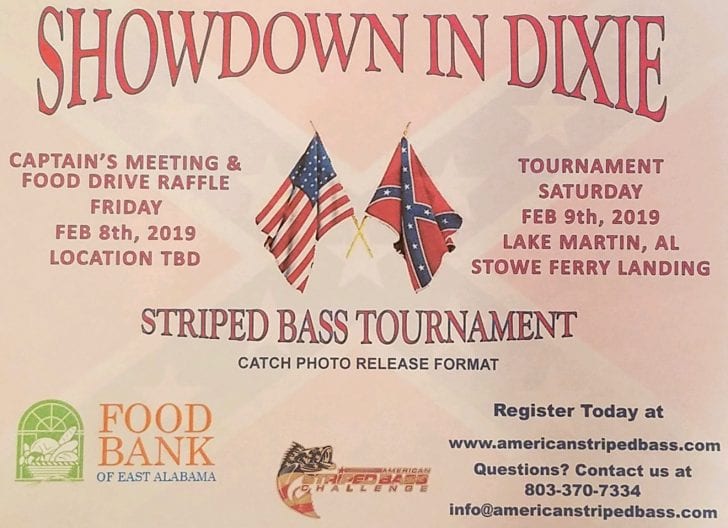 It goes without saying, we all have had more than our share of winter rains with Lake Martin being no exception. Our lake rose approximately 5 ft in January hopefully by the time your reading this, things are back to somewhat normal???
Yes, January was a tuff month for catching but most days we caught our limit or more of stripers. How did we do this you ask well we searched for cleaner waters which wasn't an easy task but when we found it we fished right on the break of the dirty water and cleaner water. The stripers were, for the most part, right on that break. As the day progressed, we had to move with the current from them pulling the water to be able to stay on the fish. My days on the water didn't produce much top water action as it has in the past years in January, but the deep-water bite was active.
Now to get into February forecast I personally don't think your going to see many changes until at least mid-February. Hopefully mid-February will bring a little more consistent weather and less rain. If this is the case, then your past years favorite February spots should produce. I'll probably be planer boarding early morning then be switching over to some down lining on thru the day. My past February's have let me boat fish from one end of the lake to the other end, it all is depending on which area I prefer to target that day. February also should begin some creek action for these stripers so do not overlook the creeks.
This month also produces a lot of tournaments and more than our share of weekend fishermen so always have respect for one another, and you need to have an extra careful attitude while on the water. Do not assume the other boat or boats see you because that's not always the case, be a defensive driver at all times, wear your PFD and kill switch, follow all boating laws and you should have a safe day of fishing.
If you haven't booked your springtime trip with us yet, then don't hesitate any longer call me now at 256-401-3089 to reserve your favorite date.
Until next time catch one for me.
Capt. David B. Hare
Alex City Guide Service
256-401-3089
2036 Cherokee Rd
Suite 205
Alexander City, Al. 35010
davidbhare@yahoo.com
www.alexcityguideservice.com
Fbook/alexcityguideservice/LakeMartin