Capt. David B. Hare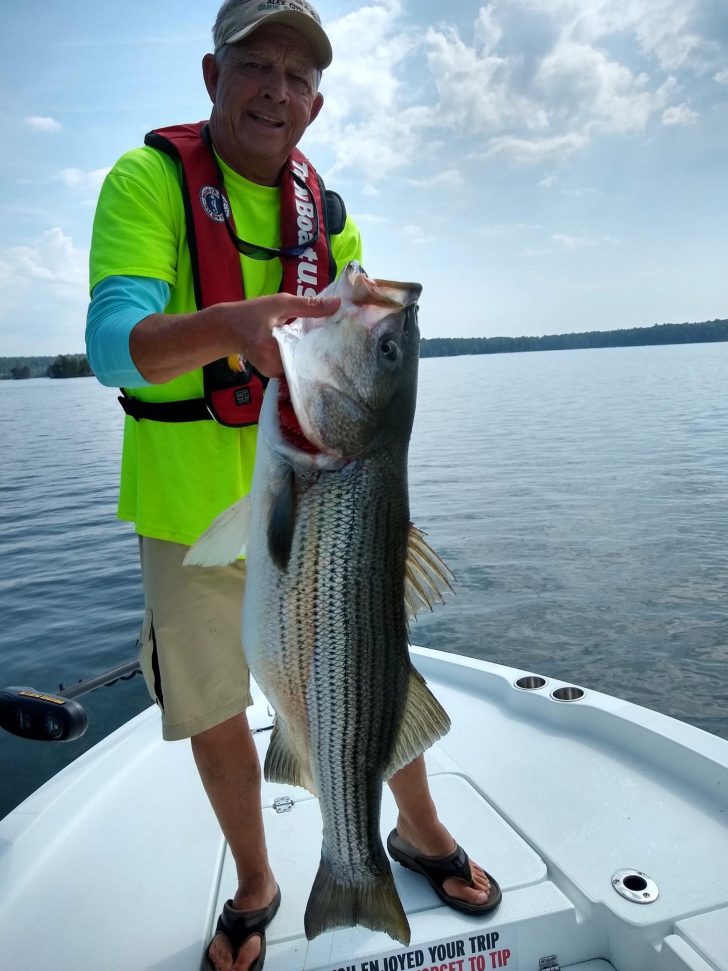 Water Clarity / Clear-Light Stain
Full Pool 491.00
Surface Temp 85-88 degrees
June fishing both day and night was better than I've seen in years and years on Lake Martin . We have had numerous successful trips including a lot of trophy fish , and boating hundreds of 8-20 lbers. Biggest Striper so far this year was boated on one of our guide boats weighing in at 47 lbs. The striper in this months photo was a little over 40 lbs and was caught while trolling at 40 ft while out scouting.
July predictions are pretty much the same as every July with one exception and that is expect to catch better quality fish than in the past . Whether your chasing green fish or the awesome striper fish your going to see a big difference in the quality and health of our our fisheries. The abundance of bait fish in our lake is really packing on the weight of our bass and stripers.
Our guide service will continue offering both early morning trips and late evening into the night trips, in saying this you should concentrate on those same times for a much better chance of a successful trip. Live baiting will be our # 1 trips but several trolling artificial trips will be booked also . Trolling the right lures will definitely put a lot of fish in the boat.
Grandparents are always asking me what can I do on my own to show the grandkids a good time while fishing , well my answer is pretty much always the same in the summer " take them bream fishing " it's a high action , lots of fun and never a dull moment trip. There is nowhere on Lake Martin that doesn't hold bream . Purchase some live worms and a tube of crickets , rig up some light weight rods with 4 lb test line monofilament line with small hooks and your set . Some of the best places to fish are off the beaten path of the pleasure boaters in back of pockets with some trash (brush) piles . Take a helper with you or let the kids rotate helping you keep bait on the hooks because on a normal day you can't run trolling motor and keep hooks baited fast enough by yourself ( lots and lots of bites ) . Your grandkids will have a blast and some of the best eating fish in the lake.
Until next time be safe and catch one for me!
HAPPY 4th Of JULY !
Capt. David B. Hare
Alex City Guide Service
256-401-3089
2036 Cherokee Rd
Suite 205
Alexander City, Al. 35010
davidbhare@yahoo.com
www.alexcityguideservice.com
Fbook/alexcityguideservice/LakeMartin