Capt. David B. Hare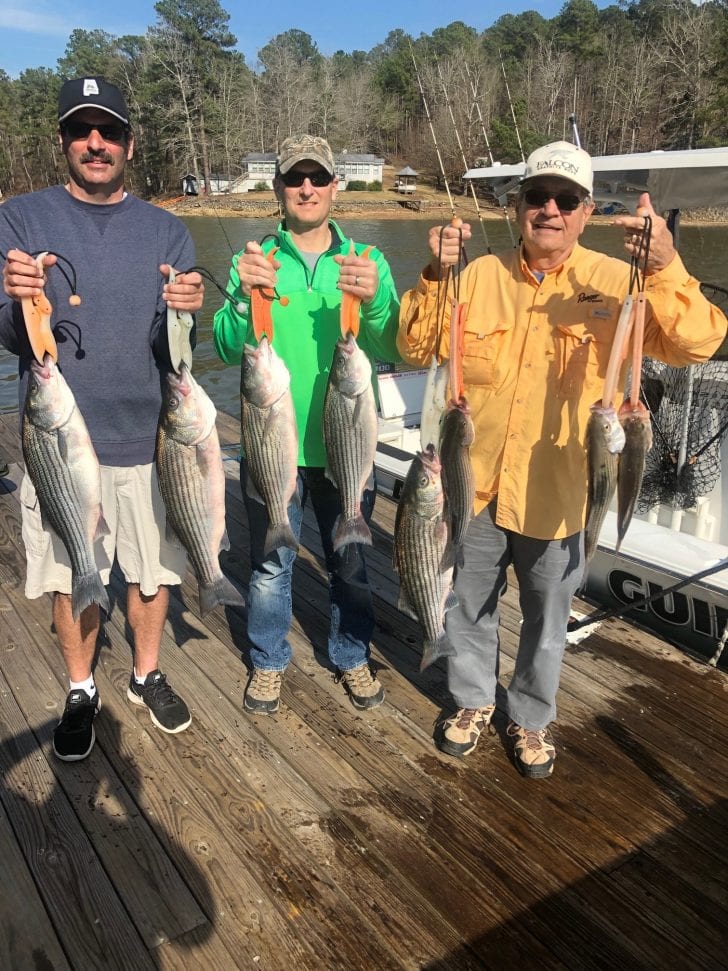 Well the plugs in, the water is rising, the water is warming, and hopefully by now the rains are back to normal. March is the big kickoff of huge stripers and they will continue to weigh their heaviest for the 60-75 days before they spawn out. February we were actually seeing a few eggs started to get in the stripers, so by now they might not be completely full but definitely well in their way. In past years, I would've said to find all these big fish in the creeks and rivers in March. But now Lake Martin has so many stripers you could walk across the lake. I've come to learn over the thousands of days fishing for stripers that you never ever want to overlook just out in the wide-open part of the lake particularly under water islands etc., for huge stripers in March. Planer boards pulling live baits will certainly catch the attention of this awesome fighting game fish however you most definitely can catch them casting top water plugs to them also. If the wind is calm enough for the water to be slick you can sit in certain areas and watch for the stripers to be roaming close to the surface, when you see this just make your way toward them preferably with the trolling motor within casting distance and throw your favorite top water plug and work it back to the boat , be ready for a serious explosion and then the fight is on. The lighter the tackle the more exciting the fight, just keep your drag loose and follow the hooked striper around with your trolling motor until he or she wears itself down then carefully dip it up with a dip net. Never try to boat a striper without a net because 95% of the time you're going to break off your catch.
With over 500 thousand stripers stocked again last year in Lake Martin it's no drought that you will catch some stripers on the smaller size but don't kid yourself their is thousands of trophy fish just waiting for the right bait (hopefully yours) to pass by and then it's on.
2018 produced a lot of 30-lb stripers with our guide service and the occasional 40 + pounder including a 45-pounder caught on my personal guide boat by one of my repeat clients. By the way, in case you're wondering, he is booked again this March in search for that 50-pounder now! A few years back our guide service boated a 52 pounder in March, so now you know why March is what we call the start of the big fish bite.
If you would like to try your luck at one of these spring time monsters give me a call and I will take care of you, your family and friends and not to mention your larger groups of up to 40. Need a place to stay while here fishing well I can put you in touch with any type accommodations you're looking for.
Hope to see you all in March here on Lake Martin.
Capt. David B. Hare
Alex City Guide Service
256-401-3089
2036 Cherokee Rd
Suite 205
Alexander City, Al. 35010
davidbhare@yahoo.com
www.alexcityguideservice.com
Fbook/alexcityguideservice/LakeMartin