Capt. David B. Hare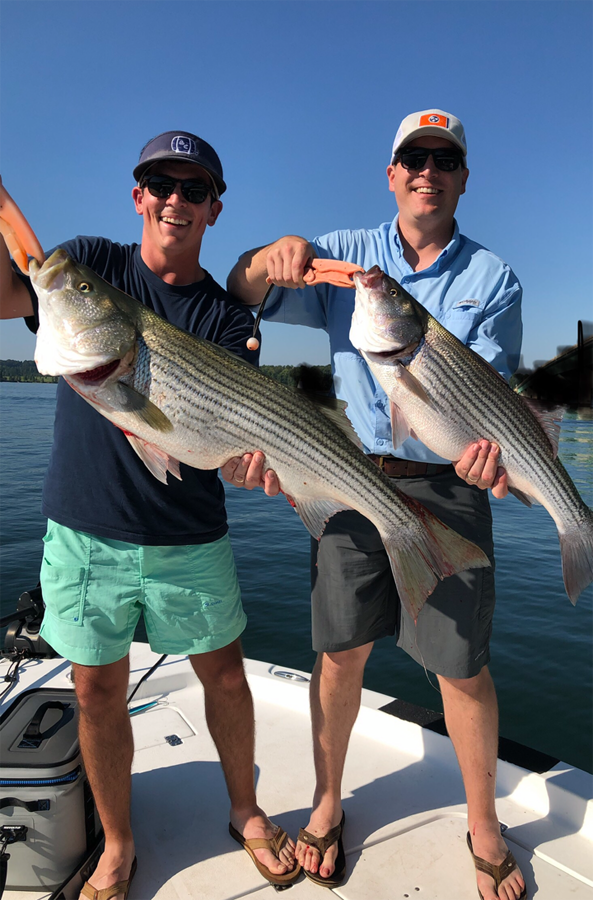 489.00 ( full pool 491.00 )
85 degree surface temp
Clear to very clear clarity
Lake Martin is alive and well as I write this ( 9/10/19 ) The top water action is on fire right now both with stripers and spotted bass . In September so far we have boated them as big as 20 lbs on top water lures and as big as 37 lbs trolling . In regards to the bass bite ( which all of you know that's not the species I target ) my bass angler friends are catching 5 fish limits with a consistent weight of 16-20 lbs total along with some 4 – 5 lb pigs . This top water bite is not just happening at day break but has been good all thru the day especially if you have a little breeze on the water.
October assuming we have not gotten much rain the last few weeks is going to have the water levels down possibly as low as the winter pool level which is about 484.00 . I personally like fishing with the water levels down due to it's just less surface area that I have to cover to locate and stay on the fish. When your dealing with 44,000 acres and 800 miles of shoreline like we have here then winter pool levels reduce that size area drastically which in return helps us dramatically.
As I say every year in my October article this is what I consider the transition period for stripers. Transition for me means they are moving or thinking about moving to different areas all over the lake so I have to plan on covering a lot of areas and cover them fast to be able to have successful trips . The easiest and fastest way for me to do this is by trolling with my Down Riggers ( Electric Scotty 1160 Pro Pack ) as I'm trolling I am constantly watching my Hummingbird 12 series electronics for stripers that may be schooled together if I see this I mark the spot ( waypoint) so I can come back to them with live bait if the trolling doesn't work.
In above paragraph I mentioned the live bait method / I'm not going to go in to this at depth but I do want all of you to know that Alabama has passed a new law stating you can no longer transport bait fish from one reservoir to another . This law was passed due to the increasing issue of Silver Carp ( Asain Carp ) being found in a lot of water ways / luckily so far none have been found in Lake Martin and we all want it to stay that way so the new law does protect us against that which is a very good thing however it increases the work for the live bait fisherman to have to catch and use only the bait fish that's in the reservoir your fishing . Still only legalized bait fish can be caught and used for fishing . Now you can still purchase bait at your local licensed bait shops for fishing which basically around Lake Martin only consist of Minnows, Black Salties, crickets , worms , etc . Our area is very unlike other states and doesn't have bait shops that offer gizzard shad or herring ( which by the way is still not legal in Alabama to fish with ) so we are at a disadvantage compared to other states and we will and are making legal adjustments to catching and fishing with local ( non transported ) shad . You as a client with Alex City Guide Service will probably never even realize anything changed but us as a guide service definitely will be working harder than ever to be able to supply good quality bait on our charter trips .
For a better understanding of the new bait transporting laws go to Alabama DCNR , game and fish regulations.
Until next time catch one for me
Capt. David B. Hare
Alex City Guide Service
256-401-3089
2036 Cherokee Rd
Suite 205
Alexander City, Al. 35010
davidbhare@yahoo.com
www.alexcityguideservice.com
Fbook/alexcityguideservice/LakeMartin