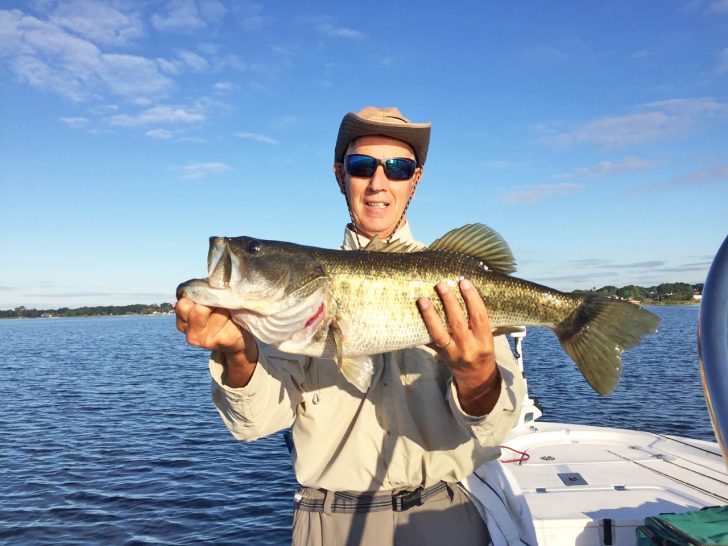 I've got to be upfront and honest here about what the fishing in June may or may not bring, it all depends upon Mother Nature.  At the time of this writing we had not had a heavy downpour, not even daily sprinkles, in almost 2 months and it is really having an impact on the lakes.  Most lakes are down drastically, and a few have dangerous boating conditions if you are unfamiliar, so please check local lake levels before you are heading out with the family or friends.  If you are on the Winter Haven South Chain please note that as of mid-May most canals are not deep enough to accommodate side-by-side passage especially for bigger boats as water levels are down.
I'm by nature a "sunrise person" and try to focus on the positive and take life from there so we are going to think positive for June.  God willing, we'll start to get some rain that will help our lakes, fisheries, and the region as a whole and get back to some good old fashioned time bass fishing!
Taking the sunny-side or glass-half-full approach to the South Chain for June we'll be looking for bass with topwater baits in the early morning hours.  It shouldn't be too hard to spot them as so many fish are typically out busting schools of bait on the surface at sunrise.  This is where you can have a lot of fun with Rebel Pop-R's or Jumpin' Minnows, a Zara Spook, Devil's Horse, or whatever your favorite bait may happen to be.  As the day progresses, I still like to keep pitching a topwater bait but we'll also switch over to flukes, swimbaits, and crankbaits.  This is when you get to have fun and mix-and-match.  Try a weightless fluke and one on a weighted hook.  Throw two different size swimbaits from a smaller 3.75" up to a 6" to see what the fish may prefer.  And for crankbaits you can really go crazy, if you wish, by having a multitude of choices from a Rat-L-Trap, to a sub-surface wake bait, to shallow or mid runners.  And let's not forget about a trusty jerkbait just to compliment the whole ensemble.
As for Lake Hatchineha and the Kissimmee Chain I have not been there in weeks because the water is so low.  It is so low that several tournaments have canceled or moved locations because of the low water.  The state at this point is not even opening the upper lock on Lake Toho to keep water up there (as much as possible).  And since we have too much invested in our '17 Sea Fox 220 Viper & Yamaha 250 SHO that I am not putting that in any position for a possible insurance claim that I can avoid.  If you decide to go, please be safe.
Capt. Scotty Taylor
855-354-8433
Scott@TMCGuideService.com