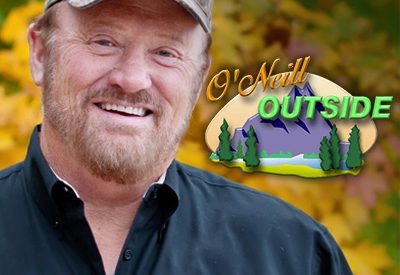 By O'Neill Williams
Let's talk fishing! No, let's don't. Let's talk about our gear. Think about it. The gear we use for our fishing, hunting, camping, outdoor cooking, etc. is varied, high quality, sturdy, long lasting, priced reasonably and useful. Think too about where we have to shop: Bass Pro Shops, Cabelas, Sportsman's Warehouse, Dicks, Gander Mountain and so many others. Great isn't it. Everything you could possibly need for that next adventure is at your fingertips.
Not all that many years ago, trying to get quality gear was a hassle; small little shops with little to choose from. Sometimes you had to order special items and wait and wait, kind of like the scene in "Oh Brother Where Are Thou" when it always took two weeks at the little store to get everything.
Take game cameras for instance. I use a Plotwatcher. I placed it on the edge of a food plot recently. It took over 5,000 photos that pictured for me ALL the activity in that plot 24 hours a day; where the deer and turkey entered and left the plot and how long they stayed there. It wasn't just up close where movement triggered the shot, no; it was upwards of 100 yards away, the spots where some hunters who use triggering cameras call a 'dead zone'. If it had been one of those old cameras, I would have missed 60% of what and when the visits occurred and what the animals were. The net effect was that I scouted that food plot for two weeks and actually was there only about 10 minutes, and I have a record of it.
Now, about rod and reels. Remember those old ABU 5000C free spools? Strong, sturdy, long lasting, however, you couldn't adjust very well the reel to the weight of the lure and size of the line. You had to have a talented and practiced thumb. Now? Affordable reels of many brands that are as smooth as silk, cast like bullets, have reliable drags and braking systems and are small enough to hold comfortably. Rods? Oh, my goodness, you could feel a mosquito light on the end of a 6½ foot rod. Feel a strike? With a little practice, you feel it just before it happens.
Line? Braid, fluorocarbon? Enough said.
Sunglasses? They are comfortable, clear, optically correct and polarized. If you don't lose them, they will last you forever, and it's personal now; they make some with little 'cheaters' along the bottom of the lens that allows an old guy like me to see up close.
I could go on and one but won't. You get the drift. Sometimes, I think we should take a look around and see what a free economy and capitalism can produce.
Finally, over 20 years ago, you didn't have a big mouth guy on radio urging you to enjoy the outdoors with your family live on WSB on Saturday mornings. Now you do.