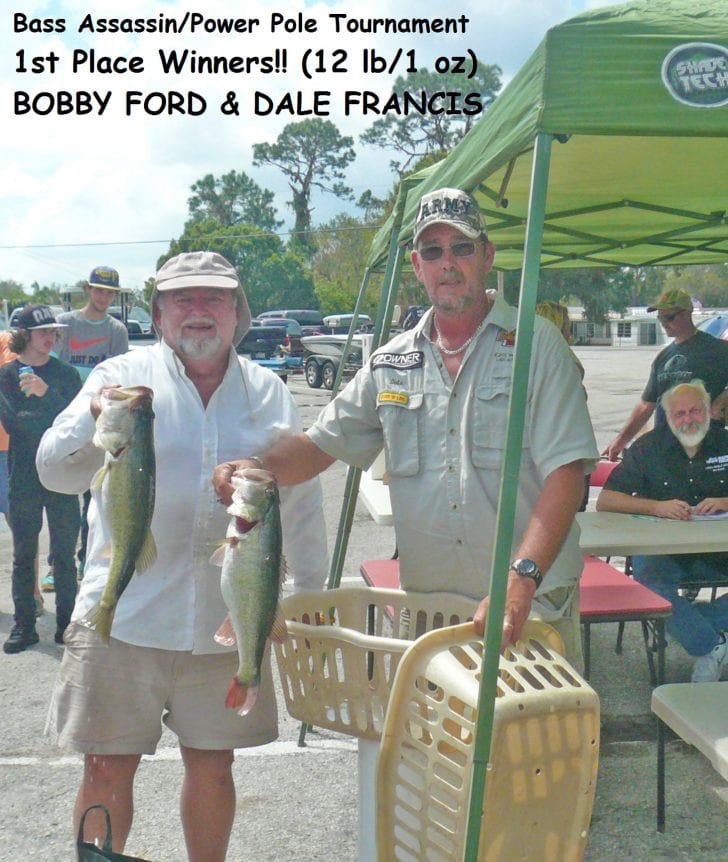 November offers some great fishing in our central Florida lakes. We're being told that many good size Specs are showing up early this year mixed in with some large Shell Crackers. The good reports on Spec and Cracker activity started coming in early September. Recent high water levels are creating a very favorable environment for Spec and Cracker fishing, so get out and take advantage of it while you can! Our best reporting lakes continue to be Lakes Haines and Rochelle here in Lake Alfred, but we've been getting good reports from Lake Alfred as well. Best bait to use is still live small minnows. As the weather gets colder, Specs will move in closer to the shore line. That would be a good time to try some pier fishing. We have many fine fishing piers here in our area . . stop in for suggestions and directions.
Bass fishing on the North and South Winter Haven Chain has been good all summer, although the sizes have been smaller. The high water levels have stirred things up creating a lot of food in the water. The fish are all over the place . . no set pattern at this time. As fall and winter approaches, we should begin to see some large Bass again. The smaller Bass, and even the Pan Fish, are nice fat ones due to all the food stirred up in the high water levels.
The 3rd Annual Bass Assassin/Power Pole Tournament hosted by Ron's Tackle Box on September 30th at Lake Shipp Park in Winter Haven was a great success despite a few sprinkles. There were (54) teams competing for that 1st Place prize of $2500, which was won by Dale Francis and Bobby Ford (photo) with a total weight of (12 lb/1 oz). Big Bass Winner was Robert Garcia (5 lb/11 oz), who along with partner Daniel Garcia also took 2nd Place. Dustin and Sarah McKenzie were the lucky winners of the Power Pole Shallow Water Anchor raffle. A good time was had by all!
Our 19th season of Ron's Tackle Box Weekly Bass Tournaments is now finished and will not begin again until April 2018. We want to thank everyone for another great season. We appreciate ALL of our faithful anglers and friends, many of which have been participating for ALL of those 19 years. Even Hurricane Irma couldn't keep us down for long . . See YOU next season!!
Submitted By: Ron Schelfo
Owner RON'S TACKLE BOX, LLC
380 S. Lake Shore Way • Lake Alfred, FL 33850
863-956-4990 • www.ronstacklebox.com
Check us out on FaceBook and "LIKE" our page.
"Catch" my Weekly Fishing Report every Saturday (6-8 AM) on WFLA 970 AM