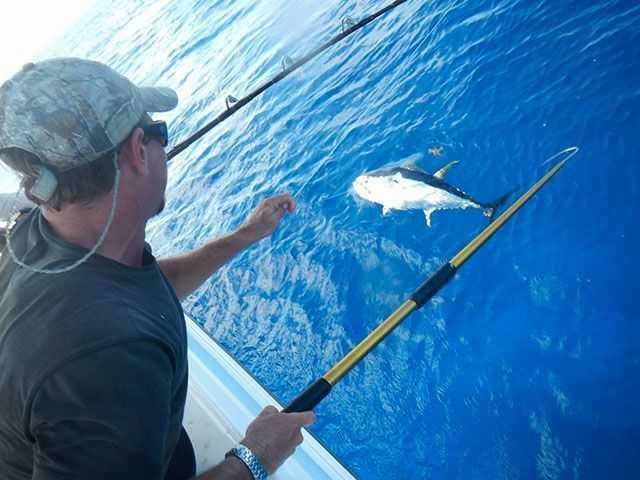 [dropcap]M[/dropcap]ay is the last good month of pelagic fishing for Long Island. It is the best month for yellowfin tuna but the wahoo fishing has slowed down a lot. If you put the time and effort in, you can still catch a few wahoo in a day, but your best to catch them is three to four days before a full moon. The blue marlin bite is strong this time of year and you are very likely to catch a few blue marlin in a day. You can have good luck trolling simple marlin lures like some Black Barts, trolled along at a speed of 10 knots. It is the easy way out and most of the time productive, but some days you just see them chase the lures a bit and swim off. This is where it pays to put the real baits in the water. Have some pitch baits ready, like whole bridle rigged mackerel or mullet. Slack them back when you see a marlin swimming into your spread and try to troll it just in front of him to entice him to grab it.
By far the most fun technique of fishing in May is to live bait for yellowfin tuna. This is an action packed moment of complete adrenalin. To have a large size live well full of pilchards is ideal. At least 100 gallons worth to give you an epic frenzy. When you find the tuna and start tossing free swimming live baits over, the tuna start to frenzy in a school around the boat demolishing every live bait that you put in the water. Meanwhile you have five rods going off at the same time and crew scrambling around the deck trying to fight the fish to the boat before the sharks get them. It is the most action packed technique of fishing that we do and most rewarding with fresh sushi at the end of the day. For our typical live bait rig, we use a 30-foot section of 60-pound fluorocarbon with a 130-pound SPRO power swivel on one end and a 9/0 Mustad 39960D circle hook on the other end, Both tied with a non-slip Luke's knot, a custom variation of a non-slip loop knot. Match this leader rig with any rod and reel of choice, as long as the reel is spooled with 600 or more yards of 80-pound braid, 20-pounds of drag at strike and harness rings to clip a back harness onto. A very nice tuna combo is a Shimano Talica 20ll matched with a Shimano Terez rod with all roller guides—a nice light versatile combo that can pack a punch.
If someone ever has the opportunity to live bait for tuna off Long island, drink a lot of water to hydrate, get your muscles warmed up for an epic battle and bring your camera to record one of the most memorable fishing trips of all time.
Tight lines and fair weather.