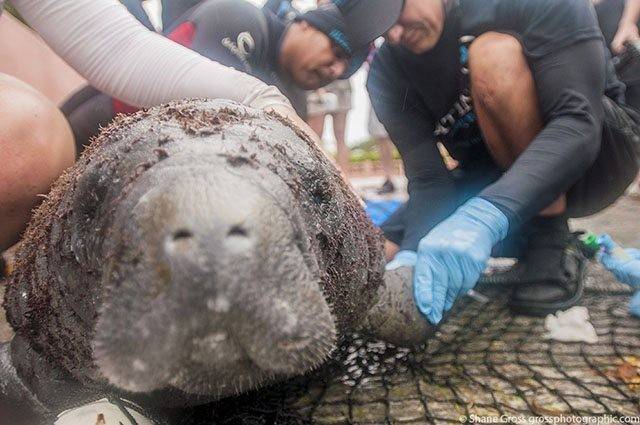 On December 29th, researchers from the Bahamas Marine Mammal Research Organisation (BMMRO) responded to a sighting report of a mother and calf pair, known as "Gina" and "Sayle", in Spanish Wells, Eleuthera, and discovered that the 5-month old calf had mono-filament fishing line entangled around her right flipper. Despite several attempts, it was impossible to remove the line. Without intervention, Sayle would lose her flipper, and could die if the wound became infected. BMMRO, The Department of Marine Resources and Atlantis' Animal Rescue Team created a plan to temporarily capture Sayle and her mother Gina to enable Atlantis' vet, Dr. Eric Anderson, DVM, to remove the line.
The rescue operation successfully took place on Monday, February 1st, 2016 in Spanish Wells harbour. The capture allowed the team to pull Sayle out of the water so the vet could disentangle her flipper. The mono-filament line, which was wrapped around her flipper three times, was carefully removed and Sayle was given a full health assessment and a satellite tag was attached to Gina which allowed BMMRO to track their movements post-release.
The entire rescue took less than an hour and upon release the mother and calf swam away side by side. Tag data showed that Gina was visiting the same areas, however, ten days later, Gina and Sayle made a surprising move out into NE Providence Channel, ending up in New Providence. One of BMMRO's science team was able to locate Gina and Sayle in Nassau and found that they both appeared in good health, and most importantly, Sayle's flipper wound was healing well and she restored use of it.
To join The Bahamas Marine Mammal Stranding Network or to report marine mammal sightings in The Bahamas, please contact info@bahamaswhales.org or join "Bahamas Manatee Club" on Facebook.