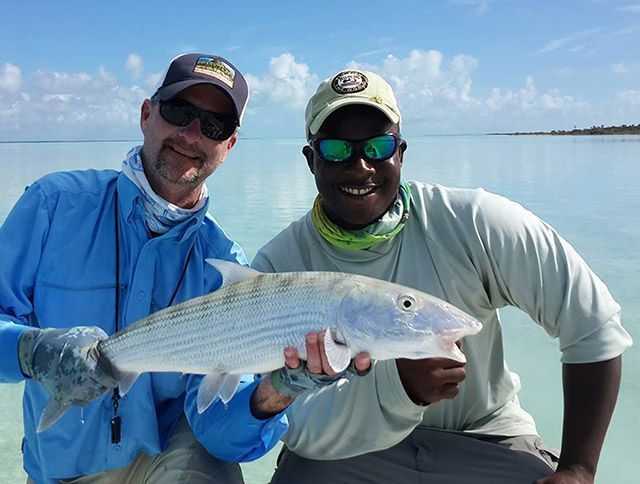 I get to travel throughout my Bahama land and often I am called upon as a motivational speaker. Most years, I have been invited to address the teachers of the Mangrove Cay High School. This time along with other great Bahamian, like Rev. Dr. Victor Cooper, Jr., Principle Anne Mae Clark-Rolle, Pearliemae Francis, former South Andros District Superintendent Pauline Adderley, and Carolyn Lewis-Thompson (group photo).
Behind the camera is my good friend, brother and fellow La-Tow, Capt. Randy Thompson, a quiet unassuming man whose super power is witnessed when he is in pursuit of the gray ghost of the flat.
From October to June, Mangrove Cay flats are bustling with water activity. So much in fact that great bonefish guides, like Capt. Randy, are impossible to find on land without the aid of a ruthless cool front.
Capt. Randy is from a long line of fishermen. His father, pastor Michael Thompson, along with his brothers, live off the flats. They harvest sponge, conch, snapper and guide bone fishers. His father insured that his sons had a healthy respect for the marine environment as a sustainable livelihood.
Bone – "The $140 Million fish"
Capt. Randy understands and support the work of the Bahamian Flats Fishing Alliance (BFFA) who commissioned an in-depth study, which has just been released. The astounding results showed that the total economic impact of flats fishing in The Bahamas is nearly $141 million annually!
Is bone fishing luck?
Not as much as one thinks says Capt. Randy, "When you know your flats as I do from a child to now master guide, you will understand why my clients call me an opportunity maker. Next you add a lover of the sport with the right equipment, drive, and teamwork for the hunt and you have preparation. That's why luck is where opportunity meets preparation and why my clients have good success fishing the Gray Ghost!."
Capt. Randy Thompson is a La-Tow at heart. Give him a call 242-429-9700 or email him at blessedrandy@live.com. If you visit Mangrove Cay, be sure to visit the Mangrove Cay High School, and say "hi" to Principal Clarke and her team because an Island is only as good as the people that live there La-Tow!