by Wayne Wooten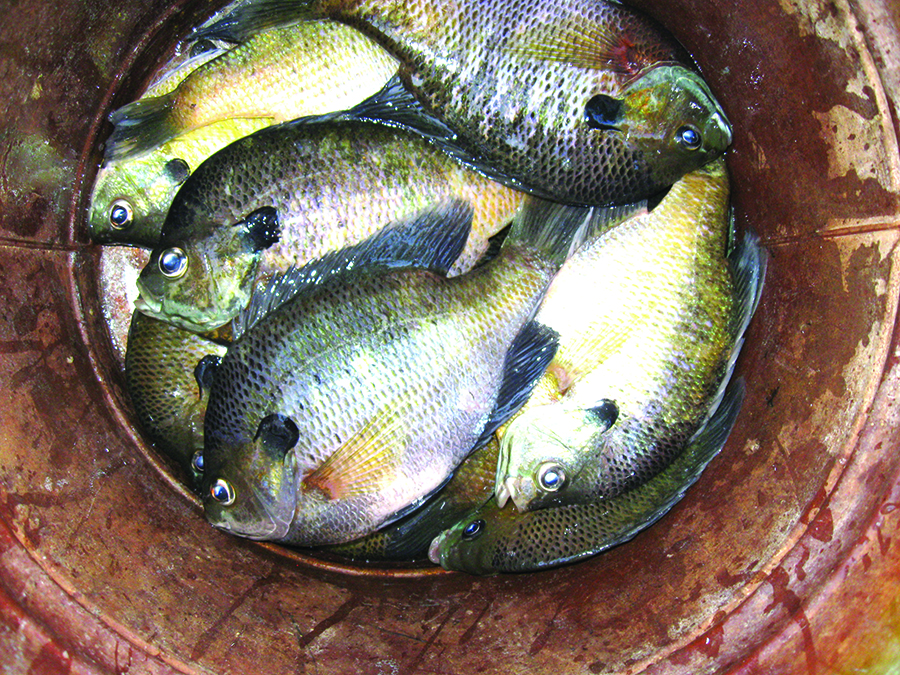 I always look forward to May. The water temps have reached into the 70's, and the bream begin to spawn. I love catching these scrappy fish and eating them. Here are some of the things I do to find them and what I use to catch them.
After the water warms up, the bream begin to move out of the depths to shallow water and begin to eat vigorously, building up strength for spawning, and building and defending the beds. When the water temps stabilize in the 70's, they start to spawn, and the males become very aggressive while guarding the nest.
I usually take a slow ride or walk around the edge of the lake looking for what looks like elephant foot prints. These small craters with dark centers are bream beds. After locating the beds and starting to fish them, it's important to approach them quietly so you don't spook the fish. Staying away from the beds, I will anchor the boat and begin to cast into them.
I use several methods and lures to fish with during the spawn beginning with 6 to 7 foot light spinning rods, ultralight reels and 4 to 6 pound test monofilament line. If you are bank fishing, a 5-1/2 rod can come in handy to cast in tight areas.
When casting live bait in 2-3 feet of water, I use a #6 Aberdeen hook, a BB split shot and a small float to decrease the disturbance of the water. In deeper water, I increase the size of the split shot to get the bait down quicker and a larger float to support the increased weight of the sinker.
I have found that the drop shot method is very good, especially in 3 feet and deeper water. Using a #6 Aberdeen hook and 1/8 or 3/16 ounce finesse sinker with a red wiggler hooked whacky style is deadly.
There are several choices for live bait; red wigglers, crickets and meal worms. I have found shellcrackers/red ears like pink worms! There are also pre-made baits such as flavored nuggets and bait imitations that work well.
Some other very effective lures I use are small tubes or grubs on jig heads, small spinnerbaits, creature baits and 1.5 – 2 inch long crankbaits that run 2 – 4 feet deep. Casting these along weed lines, structure or over beds can produce some big bream. Smaller fish are less likely to attack the larger lure.
Finding bream beds and fishing them is a lot of fun! You can catch a lot of them, and they are delicious to eat. Please remember to fish responsibly as they are very vulnerable and can be decimated at this time. Removing too many large males can affect the entire population. If you remove all of the large males, the DNA that produced the big ones to start with can get lost.