Capt. Charlie Gray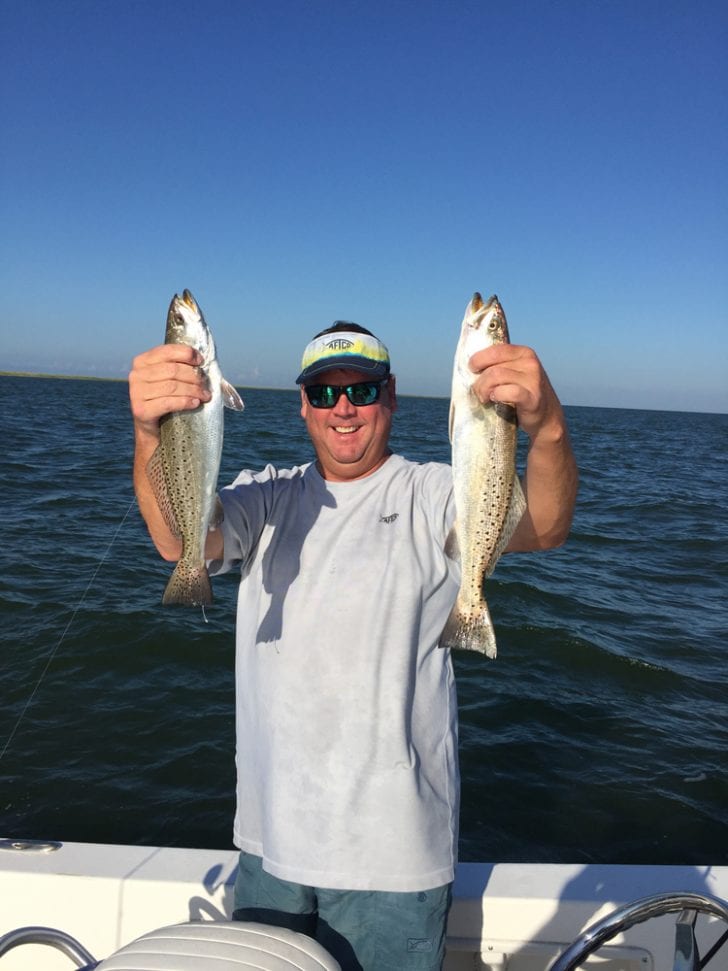 Hello fishing fans!The turkey gobbled was smoked, fried and eaten and, with that the cooler days and nights prevail. November started off warm and slow but ended up cooler with more fish schooling up. Things should progress into December before the really cold months of January and February make fishing more difficult. With the colder air and water temperatures, the speckled trout will move into the deeper parts of the rivers that feed into Mobile Bay, Fowl River Bay, Grand Bay, Portersville Bay and others. When it's colder the trout will hold up in the deeper holes of these rivers like Fowl River, Dog River, Little River and Bayou La Batre. The deeper holes are often found where the river makes a hard bend; Fish a Carolina rig or slip cork rig deep and on the ledges around these holes with a live shrimp if you can still find them, if not use a VuDu shrimp or shrimp imitation; I have great success with the Vudu in natural, cajun pepper, gold and brown varieties and I also add a little Vudu shrimp scent to help attract fish to the bait. For redfish try the same tactic, although you can use a dead shrimp fished on the bottom, or smaller finger mullet, mud minnows or bull minnows. If you are fishing a dead shrimp on the bottom, don't let it just sit on the bottom, bounce or pull it along the bottom ever so slowly, do not rush or hurry the presentation. The fish are sluggish now in this cooler water and expect the baits to be slow as well. You need a slooooow presentation. Also, don't be afraid to try these same baits under a popping cork in the shallower waters. On the warmer days ahead of a cold or warm front (if we get lucky!) fish the flats in these rivers around the holes. The fish will move into the shallow water as the day heats up. The mud bottom and oyster shell bottoms heat up quicker than some other areas. You have some tidal movement in these rivers to have success, when the tide is slack you seldom have any action. Often, just as soon as the tide starts to move either way, in or out, the fish will begin to feed. Watch your water in these shallow rivers, you may get in an area when the tide seems high, but a north wind and a falling tide may strand you on a mud flat. Be alert and careful, always pay attention to the conditions, they can change quickly this time of year.
We are still fishing and booking trips through these cooler months, call us, Lets go fishing! Remember, we don't hunt, we just fish, take a kid fishing
If you are looking for the PERFECT Christmas or Holiday gift, call me and let me get you a gift certificate for a fishing trip; You can get the certificate and have it ready under the tree for a trip for this Spring or Summer. Book a date and get the certificate, it's that easy!
Until next time, tight lines, good fishing and Merry Christmas.
Capt. Charlie Gray
Gray Gulf Charters
Dauphin Island / Mobile Bay / Ft Morgan Alabama
251.379.5067
Charlie@Graygulfcharters.com
www.Graygulfcharters.com