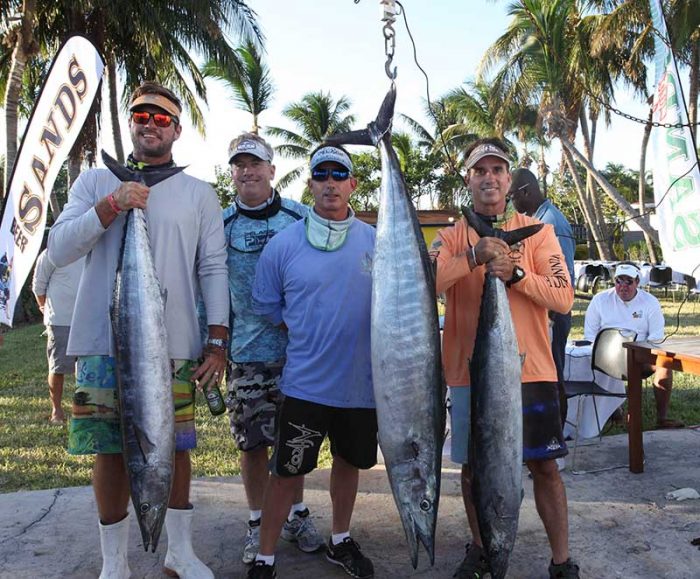 Wahoo Smackdown VIII, hosted by the historic Bimini Big Game Club Resort and Marina on November 10-12, 2016, saw more than 150 anglers competing for more than $25,000 in cash and prizes and landing over a ton-and-a-half (3,253.5 pounds) of fish in the process.
With more than 50-record-setting catches in the waters around the island, Bimini has often been referred to as the Sport Fishing Capital of the World.
"Bimini's legendary fishing action held true once again," said tournament director Capt. Robbie Smith. "Fish were everywhere, the action was competitive, and the fishing gods were with us."
A fleet of 35 boats fished, with 25 making it to the leaderboard. Over the two days, 133 fish were caught, the largest weighing over 84 pounds.
Team Murderized, out of Grand Bahama, Bahamas, took top team honors with 11 fish weighing a total of 292.5-pounds, taking home $15,000 in cash winnings.
Second place Team Monster Catch, out of Miami, FL, earning $7,500 in cash winnings, caught the largest fish of the tournament, an 84.7-pound monster. They weighed 8 fish for a total catch weight of 285.6 pounds.
Team Box N Bull, out of Fort Lauderdale, FL, finished third, taking home $2,500 in cash winnings, with a total catch of 13 fish with a total catch weight of 262.8 pounds.
Tournament coordinator Beth Watson said the weekend "went flawlessly", adding the announced plan to refund tournament entry fees if the tournament was called due to weather, attracted the largest number of entries since the tournament's inception.
Tournament festivities included live local entertainment nightly, a cocktail reception poolside for the Captains Meeting, a cookout on day one of the tournament, and a closing awards party on the great lawn, featuring a buffet, live entertainment and a full open bar.
Sponsors included Sysco, David Dunleavy Performance Fishing apparel, Bost Lures, Sands Beer, InTheBite, Flanigan's Seafood Bar and Grill, Faro Blanco Resort and Yacht Club, Reef Safe Suncare, Bacardi Oakhart Key West Marlin Tournament, Roffs, Tito's Vodka, Tropic Ocean Airways, and Island Glass Art.
# # #
About Bimini Big Game Club Resort and Marina
The Big Game Club, opened for business in 1947.  Owner Neville Stewart saw the promise and allure of fishing and personally developed and encouraged tournaments. He sold his interest to Bacardi, which over 30 years grew the tradition with many memorable tournaments.
Current ownership recently completed a $5.6 million renovation of the 75-slip marina, 51-room boutique property, which included building a brand new, larger freshwater pool, reinforce the marina and erect a new seawall, upgrade electrical and Wi-Fi capacity in the marina, new landscaping, painting of interiors and exteriors, new windows, sliding glass doors and a new Bahamian BBQ restaurant offering. Resort amenities include a fully outfitted watersports facility and the onsite Neal Watson's Bimini Scuba Center. For information on the Big Game Club Resort and Marina. go to www.biggameclubbimini.com.