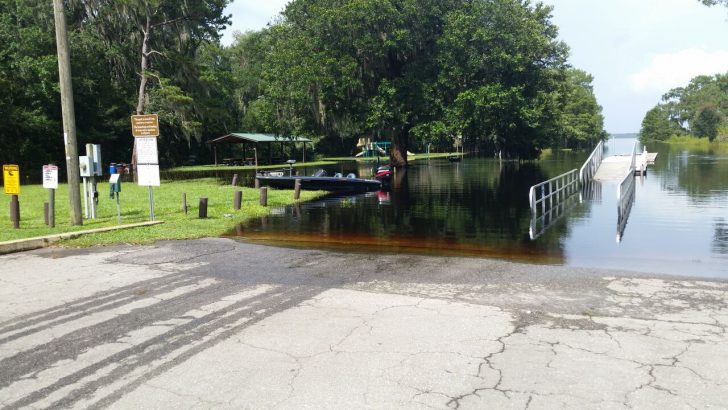 Summers come–and summers go.  On the fishing scene, things are rarely terribly different, one to the next. This summer, on the other hand, brought a huge, wet surprise to the North Florida fisher.
At the start of hot weather, you really had to work, in order to launch a boat onto some of our favorite lakes.  On a late-May trip to Newnan's Lake, I swore off trying to put my boat into the lake just east of Gainesville, where water at both boat ramps was just inches deep.  And I couldn't help but wonder when I might be able to access the closest water to my home again. Neither I nor any of my freshwater fishing buddies, it turns out, had to wait long.  On the heels of the driest spring season here in decades, came the wettest summer on record.  Rags-to-riches anglers
started catching bass, speckled perch, and bream on the quickly-rising waters right away.
Surprisingly, at this writing in mid-August, the speck bite has held up best, and Orange and Newnan's are the top-producing lakes.
Gainesville crappie specialist Brian Roe came into the store a couple of days ago for fresh line on his ultralight spinning reels.  He had launched at Newnan's that morning and eased out to a favorite open-lake area, now four feet deeper than two months earlier.  Roe rigged several outfits with crappie jigs in various colors, set them
at varying depths, and started slow-trolling.  In short order, he had narrowed down two speck-catching key–how deep the fish were hanging, and which colors they preferred that morning.   By 9:30, Roe had pulled in 45 specks.  Ten were sizable slabs of a pound-and-a-half or so.  He said that, on this day, the fish had gone for green, blue, and pink jigs best.
Bluegill fans, too, are taking advantage of the new
Opportunity–cane-poling with crickets, worms, and grass shrimp to pull big bream from around the flooded Newnan's cypresses.  Lily pad beds on Lochloosa have also yielded big numbers of big bream. The Dog Days freshwater fishing in North Central Florida has been way above average, thanks to the rainiest summer in a hundred years.
Gary Simpson
Gary's Tackle Box
Gainesville, Fl.
garystacklebox.com / garystacklebox@gmail.com