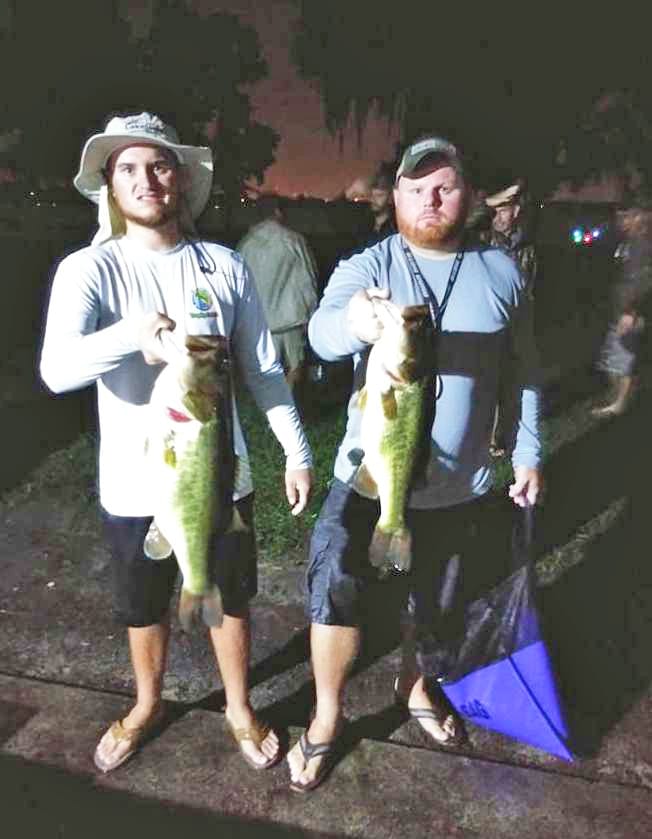 HOT temps and HOT BASS fishing . . Come on out to Polk County! The abundance of rain lately has cooled off the water and is keeping it moving making our great Bass environment even better! We are seeing many catches in the 7 – 10 lb range, as shown in the enclosed photo taken July 5th during our weekly Bass tournament which was held on Lake Shipp in Winter Haven. Phillip Glenn is displaying his BIG BASS win of 10 lb / 4.75 oz. Phillip and buddy, Daniel Steverson, also took 1st Place with a total of 17 lb / 8.75 oz. Our best reports are currently coming in from Lake Alfred, along with Lakes Haines, and Rochelle in the North Winter Haven Chain and Lakes Summit, Shipp, and Howard in the South Winter Haven Chain. Our anglers report they are mostly using top water baits. Frogs and Chug-N-Spooks seem to be the best.
Surprisingly, we are still getting reports from the North Winter Chain and Lake Alfred on decent size Blue Gills and Shell Crackers. Fish a drop off and you will find them Large Shell Crackers. Fish the pads if you're looking for Blue Gill. Baits of choice are still Live Red Worms and Crickets. Anytime you're over in our area, stop in for a current update on our local "Hot Spots".
The 20th season of Ron's Tackle Box Weekly Bass Tournaments is in full swing! Weekly registration is $30.00 per boat (1 or 2 man) and the tournaments run from 6:00 PM to 9:30 PM each Thursday through the end of October. Prizes are awarded for BIG BASS and 1st, 2nd, 3rd Place categories. The location each week is not revealed until Thursday mornings and is announced in "The Ledger" and on our FaceBook page. Of course, you may always call Ron at (863) 956-4990 for tournament information and fishing reports. Our tournaments are all around great fun . . Come out and join us!!
Submitted By: Ron Schelfo Owner RON'S TACKLE BOX, LLC
380 S. Lake Shore Way • Lake Alfred, FL 33850
863-956-4990 • www.ronstacklebox.com
Check us out on FaceBook and "LIKE" our page.
"Catch" my Weekly Fishing Report every Saturday (6-8 AM) on WFLA 970 AM