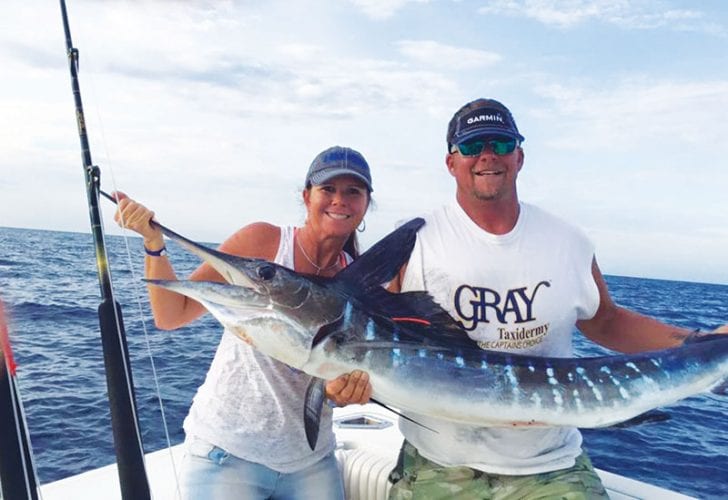 March is a great month to begin spring maintenance on your boat and trailer. There is nothing more frustrating than a broken spring or a blown hub or bearing on the way to the boat ramp. With the warming water temperatures that come in March, there is no doubt that this is the transition time where winter fishing patterns give way to spring migrations of bait fish. My fish of choice for March is the mangrove snapper. They are plentiful and typically larger than in the summertime.
First thing is getting your tackle ready. A 12 to 15 lb spinning rod with a 30lb flouro carbon leader tied to a ½ oz jig head. Head to your local tackle shop and buy as many hand picked shrimp that you can get. Mangroves love structure so the target spots to find them are ledges, wrecks and artificial reefs. The winds in March are typically blowing hard, so getting way offshore your days may be limited. Try fishing the artificial reefs in the 30-50 ft range. The key to catching large mangroves is positioning the boat correctly on the structure. I like to anchor up on the upside of structures on the very edge. You should put a chum bag out as it may take 20 minutes to get the fish to start biting. Make sure you hook your shrimp in the horn on the ½ ounce jig head. Slowly drop the shrimp in 10 ft increments so when the bait hits the zone, hold on!!!!
There is also large spawning sheepshead that are mixed in with the mangroves on the bottom. Heading into the later days of March, you can expect the first schools of the Kingfish to show up. While you are chumming, go ahead and drop a #8 sabiki rig and catch you some live blue runners and cigar minnows. These baits are what the kingfish love to eat. You need to use 20-30lb tackle and put out the live bait on a balloon acting as a bobber with wire or cable leader. Also, during this month, you can catch keeper red grouper in the 70-90 ft range on live bottom. There are also some large amberjack lingering on the artificial reefs. There is not a better bait to use for amberjack then a big blue runner. Remember while you are fishing you should follow state and federal regulations.
Always try and practice good ethics and conservation. Please be courteous to other boaters and allow plenty of space between boats when anchoring up on a public reef.
Enjoy what spring time fishing has to offer. It is my favorite time to fish. Being on the water has so many positive benefits to all of us. Happy Fishing!
Charter fishing from Venice, FL is home to some of the best fishing anywhere! You can reach Capt. Tom at 941-587-2028 or at www.tntfishingchartersvenice.com or follow on FB @ tntchartersvenice – specializing in Family Friendly Fishing Adventures.